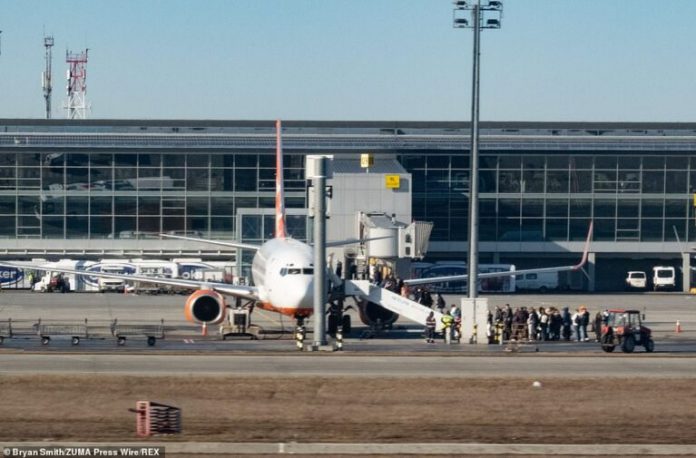 After the US warned that Russia may invade at any time, Ukraine pledged hundreds of millions of pounds to attempt to keep its airspace accessible to commercial aviation.
Airlines have begun suspending flights to Ukraine, and the Ukrainian government has reportedly prohibited Russian people from entering the country due to fears of an invasion and the prospect of death squads and saboteurs attempting to enter the country.
Following the 2014 shooting down of Malaysia Airlines Flight 17 as it passed over territory held by Russia-backed rebels, Dutch airline KLM stated it will suspend flights to and from Ukraine until further notice.
The catastrophe claimed the lives of all 298 passengers on board, including 198 Dutch citizens, and Russia was widely blamed. Lufthansa, a German airline, warned on Sunday that it was considering canceling flights.
Yesterday, more chaos erupted when Ukrainian carrier SkyUp was forced to reroute a flight to Moldova when the plane's leasing company refused to allow it enter Ukrainian airspace.
Fears of a large-scale Russian invasion have led to the closure of transit routes out of Ukraine. According to Avianews, Ukraine may soon become a no-fly zone for commercial airplanes.
According to the journal, Ukraine would gradually close to air travel unless an agreement is reached between the Ukrainian Ministry of Infrastructure and international insurers and airlines.
It comes as the Pentagon reports that an hour-long phone chat between US President Joe Biden and Russian President Vladimir Putin did not go well.
'It's certainly not a sign that Mr. Putin has any intention to de-escalate the tensions,' Defense Department spokesman John Kirby said.
'And it's certainly not a sign that he is recommitting himself to a diplomatic path forward. So, it doesn't give us any cause for optimism.'