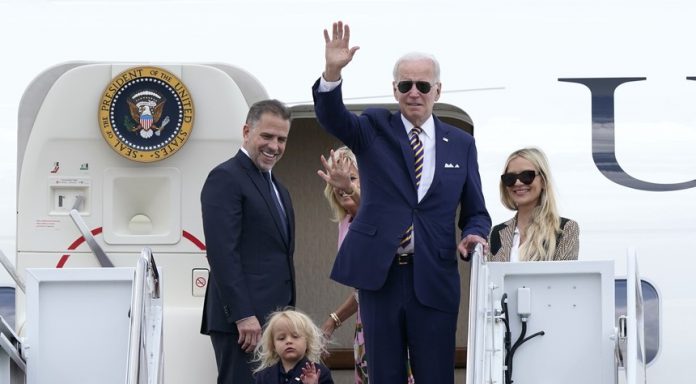 We've seen Joe Biden attempting to dodge straightforwardness with regard to who he may be meeting with when he travels to both of his two homes in Delaware. He's would not turn over the guest logs on that. Even the Secret Service seems to be running cover for him when they say they have no responsive records for FOIA requests seeking to find out with whom he is meeting when it's their basic job to investigate anyone who would visit him.
We've additionally seen Joe Biden lie his head off with regards to his son Hunter, asserting he hasn't consulted with his son about his business when he's met in excess of multiple times with business partners, and Tony Bobulinski has said that Biden was aware and involved in some of the business.
However, according to the NY Post, the White House is gearing up to fight the likely coming probes on Hunter Biden, the origins of coronavirus, as well as the disastrous withdrawal from Afghanistan, and we're going to have to pay for it. They're already shelling out $265,000 a year in salaries and it's expected to balloon, even more, to deal with the probes and the subpoenas they think are coming.
In May, the White House poached Richard A. Sauber, the top attorney for the Department of Veterans Affairs, to serve as a "deputy counsel to the president" tasked with handling House oversight probes. Ian Sams, a veteran of Vice President Harris' failed 2020 presidential campaign, was hired to run official comms for the team. White House records show the two men will bring home $155,000 and $110,000 individually.
And the team is only expected to grow, the Washington Post reported — indicating that its staffing and operational expenditures will balloon further.
"Americans deserve transparency from President Biden about his family's suspicious business dealings. But instead of providing transparency, the White House is hiring staff at the American taxpayers' expense to stonewall congressional oversight and accountability," said Rep. James Comer (R-Ky.), who is on track to chair the House Oversight Committee next year if Republicans retake the House.
"Let's be clear: no amount of Biden White House staff or stonewalling will stop Republicans' quest for transparency and accountability on behalf of the American people," he added.
In any case, the Biden group has proactively shown they have no shame.
We've already seen questionable actions on the part of the White House and the Biden team when it comes to involving themselves in the defense of Hunter Biden. Their transition team ran his statement announcing the FBI investigation into him on "tax" issues and allowed him and his father to defend him on the transition site that taxpayers pay for. They even involved themselves in Hunter's art career, reportedly helping to draft a document claiming the names of the purchasers will be kept confidential from Hunter. But that itself involved them and created ethical issues, as former Obama ethics chief Walter Shaub declared. And it kept us from knowing who was buying his art (paying the president's son vast amounts of money).
We noticed that the charges purportedly being considered against Hunter Biden might be thin — involving only tax charges and a gun charge. In other words, nothing that would touch Joe Biden. Some are already calling that a cover-up. But the Republicans have vowed to go after the broader questions of foreign dealings and potential compromise, according to Rep. James Comer (R-KY)
Senior republicans say they'll investigate the Biden family businesses if they take control of key committees in January. This statement @JamesComer House Oversight after multiple sources told @cbsnews FBI believes it has enough evidence to charge Hunter Biden with crimes related pic.twitter.com/kkj3tw90bv

— Catherine Herridge (@CBS_Herridge) October 8, 2022