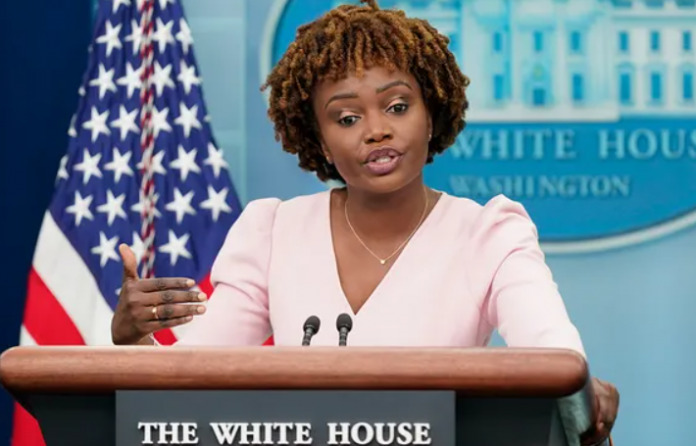 During a Monday interview, White House press secretary Karine Jean-Pierre laughed aside a question concerning President Joe Biden's physical and mental health.
Jean-Pierre expressed astonishment in an interview with CNN's Don Lemon, telling the presenter that a question regarding Biden's physical and mental capacities should not even be posed.
The press secretary then smiled and admitted to Lemon that she, at 47, had trouble keeping up with Biden, who is 79 years old.
The president's mental faculties were questioned in a New York Times piece earlier this week, which Jean-Pierre dismissed as "hearsay" and "not what we care about."
Several senior Democrats were noted in the article as questioning Biden's suitability to lead the Democratic Party into the 2024 race.
"We care about how we are going to deliver for the American people. How we're going to make their lives better. That's what the president talks about. That is his focus and that's what we'll continue to focus on." Jean-Pierre continued.
In November 2020, Biden became the oldest person ever elected to the White House, and if he decides to run for re-election in 2024, he might set a new record.
Concerns about Biden's age and capacity to lead the Democratic Party arise during an administration riddled with gaffes, with the president making ostensibly fresh policy announcements only to have members of his team backtrack.
Biden has signaled a willingness to go to war with both Russia and China in recent months, before administration officials stated the country would not change its diplomatic objectives.
Biden also declared in the same month that Russian President Vladimir Putin could not stay in office.
The remark sparked outrage since it appeared Biden was advocating for Putin's ouster, but White House officials later stressed that the president was not advocating for regime change.
Biden struggled to read a teleprompter-guided speech about Russian oligarchs and new penalties the US would be enforcing in April.
Former President Donald Trump, a front-runner for the Republican presidential nomination in 2024, will be 78 years old, while Senate Minority Leader Mitch McConnell will be 80.
Another presidential candidate, Republican Florida Governor Ron DeSantis, is barely 43 years old.