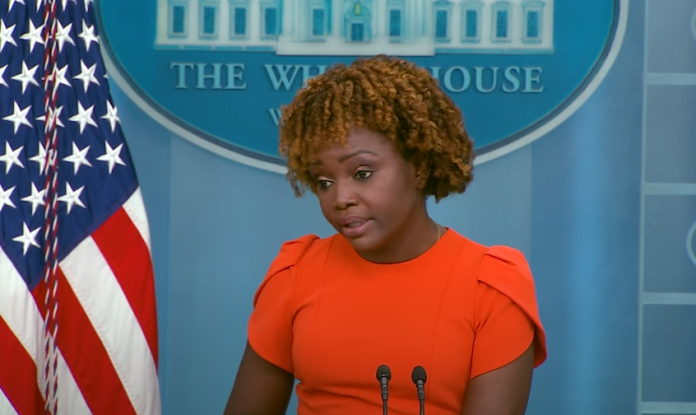 Karine Jean-Pierre, the press secretary for the White House, claimed on Monday that migrants are not simply crossing the border on foot, as is almost daily shown by news photographers.
The astonishing response came in response to a question from Fox News' Peter Doocy, who questioned why immigrants who may not have received vaccinations continue to enter the country but tennis player Novak Djokovic isn't allowed to play in the US Open, which got underway in Flushing Meadows, Queens, today.
Doocy: "Somebody unvaccinated comes over on a plane, you say that's not okay. Somebody walks into Texas or Arizona unvaccinated, they're allowed to stay?"

Jean-Pierre: "That's not how it works… It's not like someone walks over."

Doocy: "That's exactly what is happening!" pic.twitter.com/mr8XE1n1oY

— Greg Price (@greg_price11) August 29, 2022
"It is not that simple. It's not just that people are walking across the border. We have a plan in place. This is not like switching the lights on. ​This is going to take a process,"Jean-Pierre said as she shifted to denounce the previous administration's immigration practices. ​
"We are fixing a broken system that was actually left by the last administration. And as it relates to the tennis star, that is totally different. That is a different process," she emphasized, pointing out that although Djokovic has a problem with the US Open, he still needs to follow federal laws.
Doocy retaliated, claiming that the situation at the border is different from how the White House is describing it.
In response, Jean-Pierre listed a number of steps the government has started, including collaborating with Mexico and Guatemala to find human traffickers, boosting financing for the Department of Homeland Security, and hiring more judges to process asylum petitions more quickly.
Doocy inquired as to why the rules established by the Centers for Disease Control and Prevention under Title 42 diverge when it comes to foreign nationals entering the country over the border and international tennis players like Novak Djokovic.
After some debate over Title 42, which enables the government to deny entrance to asylum seekers in order to stop the coronavirus from spreading, Jean-Pierre said that the public health rule is a CDC requirement.