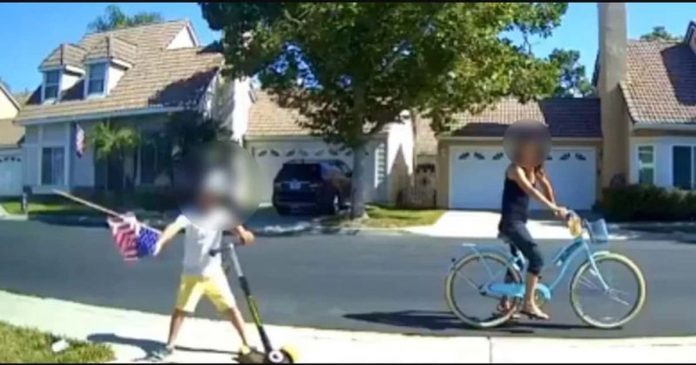 America appears to be losing its patriotic spirit under President Joe Biden's leadership. A viral video posted online recently showed a young boy pulling an American flag from someone's lawn and throwing it on the ground.
It's amazing that a child can experience such anger and hatred towards American flags. But, it's even more remarkable that the mother watches and does nothing.
Perhaps she was the one that taught him to hate it…
Children are being raised to desecrate the flag. pic.twitter.com/RtNBo3u1st

— Marie Oakes (@TheMarieOakes) July 9, 2021
The footage you see above is from an unknown place. It was shared for the first time on July 8, just days after Independence Day. On his scooter, the little boy passes by a house before noticing the flag. He then picks it up. The woman, which appears to be his guardian or mother, continues on her bike and rides on.
If parents are teaching children to hate the American flag, then what chance do we have for the future?
The video quickly became viral with left-wing activists praising the mother and child and conservatives expressing their horror.
"This is sad. We would never have thought to do that as kids in the 60s," one conservative user said.
"Honest question: How can a country succeed if their citizens are being raised to hate it?" another conservative said.
As horrifying as this…can you honestly say you are shocked by this stuff anymore?