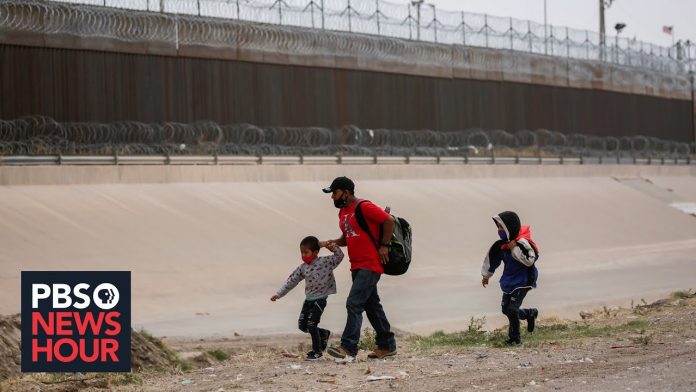 Santi, a seventeen-year-old from Sunland Park, New Mexico, waits in his car outside a store, staring at a pulsating blue dot on his cellphone.
He's been employed by human traffickers to pick up migrants less than a mile from the Mexican border and transport them to El Paso, Texas.
Every 15 seconds, his gleaming red phone pings. As a contact on the American side sends orders, he and the migrants exchange locations.
According to the US Border Patrol, an increasing number of American teens in areas from Texas to California are being recruited to transport migrants over the Southwest border. Customs and Border Protection is a division of the United States Customs Service.
According to US Customs and Border Protection, one out of every four drivers captured transporting migrants in the Sunland Park-Santa Teresa region last year were minors, the majority of whom were U.S. residents residing in the neighborhood. The statistics on juvenile drivers was first recorded by the Border Patrol in fiscal year 2021.
Migrants have been directed into the United States by Mexican teenagers for many years. According to nearly two dozen government and law enforcement officials, attorneys, migrant activists, and local residents contacted by Reuters, recruiters persuade both Mexican and American youths that they are unlikely to suffer legal penalties since they are minors.
Children as young as 14 years old hear about the project through social media and acquaintances, and they transport primarily Mexican adults.
Santi is parked about 900 feet west of a white and green U.S. Post Office building. Pickup by the Border Patrol. Around 1,000 feet south, the migrants are hiding in the desert.
Smugglers in Ciudad Juarez, Mexico, used a gloomy night to drive people past the rugged Mount Cristo Rey, which has no border barriers.
According to Santi, US agents in helicopters struggle to detect migrants through clouds, and strong winds may be preventing their drones from flying.
However, the government of the United States of America President Joe Biden predicts another year of record-breaking migrant arrests along the southwest border. In May, a COVID-era policy that barred most asylum applications would be lifted.