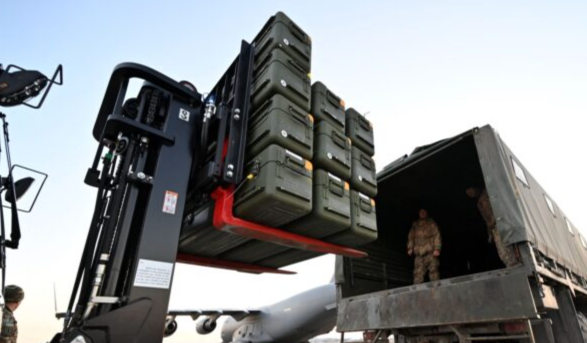 In addition to the more than $19.7 billion in weapons and other equipment already taken from DoD stocks since the crisis started on February 24, the United States acknowledged Wednesday night that it is providing Ukraine an additional $400 million in deadly military aid.
As Ukraine strives to resist Russian efforts to harm crucial infrastructure for major cities before winter sets in, extra weaponry, munitions, air defense missiles, and vehicles will be seized from current stocks.
Analysts warned that U.S. military support for Ukraine has pushed United States military stockpiles to "dangerously low levels." https://t.co/Mv5V1r2nmD

— Breitbart News (@BreitbartNews) October 3, 2022
Increasing air defense capabilities is still a top priority due to Russia's harsh and persistent missile and UAS drone strikes on Ukraine's vital energy infrastructure. According to a Pentagon press statement, the additional ammunition for heavy machine guns and National Advanced Surface-to-Air Missile Systems will enable Ukraine in fending off these pressing threats.
Capitol Hill is asking concerns about the influx of weaponry.
Congress is sending another $12 billion in military gear and aid to Ukraine, pushing the total transfer up to $65 billion in 2022. https://t.co/KT862YAE1D

— Breitbart News (@BreitbartNews) September 30, 2022
Given that Washington currently spends more on defense than all of the United Kingdom's military expenditures combined and nearly twice as much as France, critics of Washington's limitless supply of material have already questioned how long it can continue to maintain the supply of armaments.
Additional ammunition for NASAMS, 150 heavy machine guns designed to take out Russian drones, ammunition for High Mobility Artillery Rocket Systems, High-speed Anti-Radio frequency missiles, 200 precision-guided 155mm artillery rounds, and 150 High Mobility Multipurpose Wheeled Vehicles are all included in the package.
Additionally, there are more than 200 generators, more than 100 light tactical vehicles, and rounds of mortar and small-arms ammunition that are available.
The Biden government has spent twice as much as the United States. The underfunded Army's annual expenditures on the creation and acquisition of new weapons amount to around $200 per American.
Additionally, Ukraine benefits from American spy planes and satellites without having to contribute to the development of those networks.
To attack Russian supply depots, command centers, and cutting-edge monitoring equipment, high-tech rockets produced in the United States are being combined with that surveillance technology.