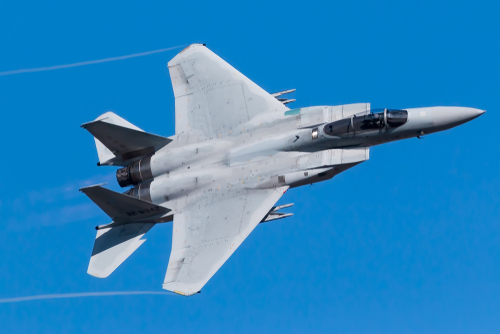 According to a US official, on Wednesday, an Iranian drone seemed to be heading in the direction of US soldiers in Erbil, Iraq, so the US hurriedly dispatched an F-15 fighter jet to shoot it down.
According to two separate US sources, US forces launched the fighter aircraft after locating many Iranian short-range ballistic missiles on Wednesday and they were en route to Kurdish regions in northern Iraq. According to the officials, the missile launches were likely launched from somewhere inside of Iran. One of the officials declared, "This was a significant incident."
Nevertheless, this is hardly the only outrageous incident to occur there. The Islamic Revolutionary Guard Corps of Iran recently attacked Kurdish separatist rallies in northern Iraq, killing nine people, including spectators, according to Saman Barzanji, the health minister for the Kurdistan Regional Government, or KRG.
According to a report by Iranian state-aligned news Tasnim, the Islamic Revolutionary Guard Corps (IRGC) used rockets and drones to target the offices of Kurdish organizations that Iran has designated as terrorist organizations. US Headquarters blasted the "unprovoked attack" by the IRGC in Iraq, as you may anticipate and correctly should have done.
Iran has bravely attempted to target aggressors located in the Kurdish region of Iraq in the past, but since the end of the week, the danger in the area has significantly increased. Following the death of Iranian Kurd Mahsa Amini, Tehran is accusing Kurdish organizations of undermining the country by supporting those who are protesting and who have shown any form of disagreement or disapproval against Iranian authorities. This is according to Fars, a government-aligned news outlet.
The two US sources emphasized that it is now thought that Iran was attempting to harm or maybe kill Kurdish soldiers in order to divert attention away from the ongoing protests, which may not be ceasing in Iran at all. The protests have continued in Iran's western provinces, where many Kurds are angry about Amini's passing.