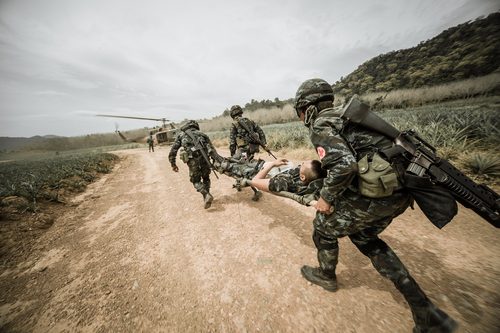 As the first Russian missile struck Ukraine, killing scores, a group of Tampa-based veterans quietly went to work.
Ukraine volunteers from Project Dynamo in Florida have been working hard to evacuate about two dozen Americans who have been caught up in the chaos and terror of Russia's invasion on Ukraine.
To extract Americans, American troops have been dispatched. Nobody was going, so the gang of vets realized they'd have to do it themselves.
In January, Project Dynamo began planning for Ukraine. It recently announced its presence in Kyiv and indicated that an American evacuation was in the works.
(Reuters) – A private volunteer group from Florida said it has launched an attempt to usher about two dozen Americans out of Ukraine in the first evacuation of U.S. citizens since the country came under Russian military attack. Group is the Tampa-based nonprofit Project Dynamo

— Phil Stewart (@phildstewart) February 25, 2022
After the US State Department dismissed diplomatic personnel and abandoned the US Embassy in Kyiv, the urgency mounted. After Russia launched a ground, air, and sea attack on Ukraine late Wednesday, the need to evacuate Americans became critical.
The organization said on Thursday that it was rescuing a woman from New Mexico. The woman had traveled to Ukraine to attend her father's burial. She requested assistance and did not anticipate the situation in Ukraine deteriorating so quickly.
As the Russian shelling on the Ukrainian capital began, rescue efforts for vulnerable Americans began in Kyiv. The evacuees gathered at a predetermined place and boarded three vans bound for an unspecified nearby country.
However, when the airstrikes began and tanks arrived, Ukraine issued a NOTAM barring all civilian planes from entering or departing the zone.
One of three Air India flights en route to Kiev to rescue Indian nationals had to return in the middle of the trip. Other flights were diverted to a Moldovan airport, including one from Ukraine International Airlines.
A week before the invasion, more than a dozen countries, including the United States, the United Kingdom, and Germany, urged their citizens to flee Ukraine. Japan and Australia also joined them.
The US Embassy in Kyiv was ordered to leave the country. Canada's embassy has been relocated to Lviv, near Poland's border. Out of an abundance of caution, about 150 US employees were instructed to leave Ukraine.