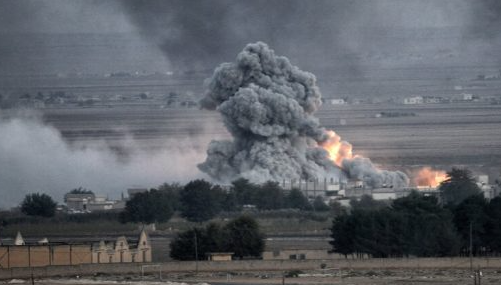 On Tuesday, an airstrike struck a convoy carrying fuel and, according to rumors, weapons from Iraq to Syria, killing at least ten individuals. Although no one has yet claimed credit for the incident, Israel is already being blamed by a leftist US daily.
Near the Al-Qa'im border post, a convoy of about 15 fuel tankers and one unidentified container truck entered Syria late on November 8. Aircraft struck it soon after it reached the boundary. Around ten individuals died, two tankers were damaged. Some of the fatalities were Iranians. That implies the convoy's last stop was the terrorist organization Hezbollah in Lebanon, which Iran has been fueling for more than a year.
No one has claimed responsibility for the incident, despite "people familiar with the attack" saying that Israel was behind it. Israel has conducted scores of strikes in Syria, the most of which targeted locations with ties to Iran; the Israeli Air Force is declining to comment on the most recent one. Iran's state television is accusing US drones.
There are a few hints, yet it's unclear what caused the strike. A video of the convoy shows one unmarked semi-trailer among the tankers, and Iran has been known to utilize the same convoy route to deliver weaponry to Hezbollah. Israel consistently tries to stop weapons from entering to the terrorist organization.
Stephen Troell, a US citizen, was shot and killed in Baghdad on Monday by unidentified assailants, it was reported on Tuesday. The shooting, according to Iraqi Prime Minister Mohammed Shia al-Sudani, was intended to tarnish his government.