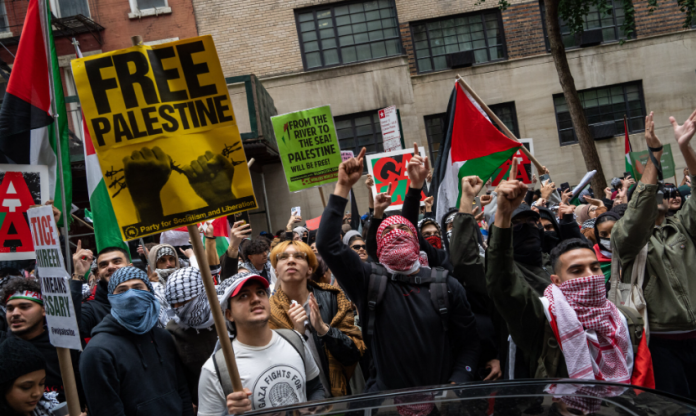 Turning Point USA, a conservative student organization, reported on October 22 that one of its team members had been subjected to a severe assault by a group supportive of Hamas in Skokie, Illinois.
According to the group, this incident occurred while Turning Point employee Peter Christos was covering a pro-Israel demonstration in the predominantly Jewish Chicago suburb.
The founder of the student organization, Charlie Kirk, stated on his Twitter profile that Christos was assaulted while he and another team member were helping an elderly couple leave the rally. Kirk alleges that, as they were heading to their vehicles, individuals supporting the Palestinian cause began shouting at them and striking Christos repeatedly until he was on the ground.
The founder, who is also a prominent conservative figure, mentioned that the pro-Palestine backers went as far as hitting Christos with a flagpole before law enforcement arrived and escorted him and the other team member to safety.
Kirk emphasized the importance of the police arresting these individuals and bringing charges of "hate crimes" against them. This incident was captured on video and later gained widespread attention on social media platforms.
Andrew Kolvet, a spokesperson for Turning Point, stated that Christos and his coworker were attacked while engaged in a commendable act. He emphasized that these two Turning Point representatives are not of the Jewish faith but are Christians who express their support for Israel.
Kolvet also expressed his dismay over the presence of violent groups in the United States that intimidate Christians and Jews attending pro-Israel events. He stated that such incidents should not occur in the country and should serve as a wake-up call for American political leaders regarding the individuals they permit to reside in the U.S.
The spokesperson additionally stated that the ordeal experienced by Christos and his coworker should be classified as a hate crime, and Turning Point is committed to taking substantial measures to ensure that those responsible for the assault are brought to justice.