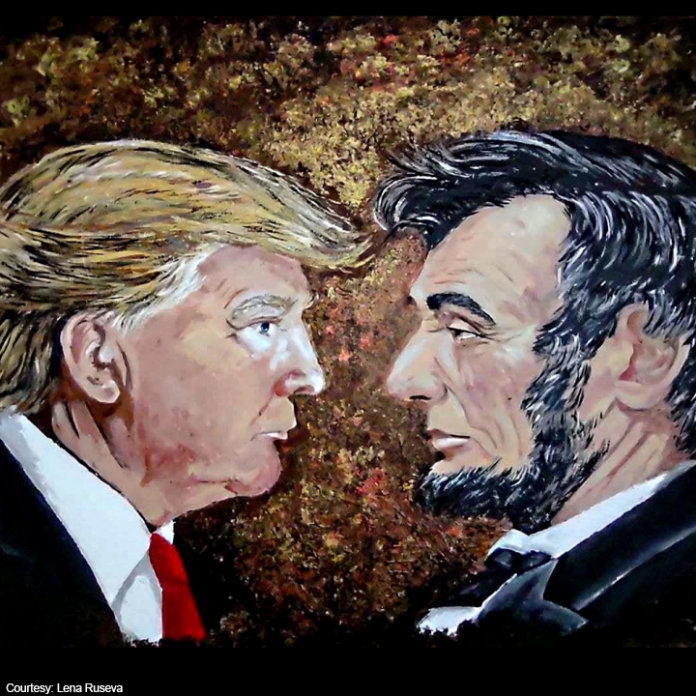 Lena Ruseva thought her art collection featuring former President Donald Trump would encourage people to talk. But she wasn't prepared for the aggression or threats.
Ruseva claimed that she was sent menacing messages, which ultimately caused her to postpone the 30-piece "Trump: Parallel Universe", an exhibit that was due to open in New York City last Wednesday.
Ruseva, an emerging artist, said that she chose to create a collection dedicated to Trump as everyone has feelings about him.
"People hate him; people love him," she stated. "It's something mind-provoking. It's not insulting. It's not disgusting. It's not propaganda. I didn't expect any aggression."
She describes her pieces as "something between fairy tale stories and reality."
One-piece shows him riding a shark while a flag of the United States is draped over his shoulders. The 45th president touches his fingertips with an alien in outer space. Trump is depicted as a knight and warrior, as well as a monk and wizard.
Ruseva, a Russian-born artist, stated that she didn't know how hard it would be for an art gallery to display her paintings. She began looking at places to host her show early this year.
After she explained that her collection was focused solely on Trump, gallery after gallery turned her down after she told them.
Rick Evans an event manager, stated that many places passed on the exhibit due to the subject matter. However, the owner's visceral reaction to the former President wasn't the only reason she turned her collection away.
Multiple times, galleries informed Evans and Ruseva that they weren't worried about potential protests or ruckus from the exhibit. She said that she was afraid of "crazy people who hate Trump so much they are willing to destroy property."
Ruseva and Evans were frustrated at being refused so many times. They decided to find a space for rent. They thought that they could find a vacant space to display her art at a weekend event, given the number of vacancies in New York City because of the coronavirus pandemic. After being burned by a landlord in Lower Manhattan's SoHo, who refused to return phone calls, they found a Tribeca space.
The landlord was not bothered by Ruseva's art subject matter and agreed to let Ruseva use the space. However, he required that Ruseva obtain certain insurance policies including a waiver from terrorist actions.
As they were finalizing the arrangements, Ruseva started promoting her weekend show via social media. The threats began to roll in, scaring Evans and Ruseva.
Ruseva claimed that she received threatening messages and threats from people requesting her to leave the country. Evans claimed that he also received threatening messages and was forced to call the police.
Evans claimed that the officers told Evans they thought they were nuts to put on the show but that they also understood why they wanted it to be held. Evans was told by the officers that they would place a patrol car right next to the building housing the exhibit, so they could respond quickly if violence broke out. However, they couldn't allocate more resources.
Evans stated that the threat of violent protests and their potential were too great and the show was canceled just twelve hours before it was due to open.
Ruseva rushed to send over 500 emails and hundreds of text messages to those who said they would attend the opening.
"The show was canceled over fear," Evans said. "We canceled it over everybody's safety."
Evans claimed that the pair didn't like their chances, despite the assurances of law enforcement.
"I don't like the word 'probably,'" he stated. "You only need one lunatic."
Evans and Ruseva are both frustrated by the threats and pushback that is solely based on the subject of their art.
They aren't giving up on their dreams yet. They have been supported by conservatives as well as several political groups such as the Young Republicans Club of New York. Now they want to find a new venue that will allow them to present their art.
stated Ruseva: "The more pressure I get, the more stubborn I become."