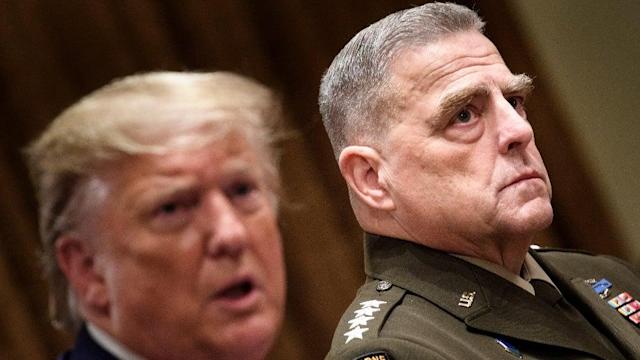 While speaking about the U.S. withdrawal in Afghanistan, former President Trump called Gen. Mark Milley Chairman of Joint Chiefs of Staff a "f—ing idiot" at an event at Mar-a-Lago Saturday.
On Saturday, Ron Filipkowski, a Florida attorney, captured Trump speaking to a crowd about the military planes left behind after the U.S. pulled out forces from Afghanistan. Trump claimed Milley had told him that it was cheaper to leave the planes behind than move them to another country.
"That's when I realized he was a f—ing idiot," Trump said, eliciting a wave of laughter from the crowd.
Trump suggested that the planes be filled with half a tank of gas and moved to Pakistan or the U.S.
I know Trump claims he doesn't drink, but he sounded even more like a drunk uncle at a wedding tonight than usual. Here, he calls General Milley a "f*cking idiot." pic.twitter.com/YxUfY3suXm

— Ron Filipkowski (@RonFilipkowski) December 5, 2021
According to Business Insider, Trump spoke at Turning Point Action's event, which was founded by Charlie Kirk.
The Taliban took billions of dollars worth of U.S. weapons from the United States shortly after August's fall of Kabul. The aircraft was virtually inoperable without proper training. However, the Taliban did have ample opportunities to spread propaganda.
Trump has repeatedly criticized Milley, calling him a "dumbass", in September after it was revealed that Milley had called his Chinese counterpart to assure him that Trump didn't intend to attack China.
Milley admitted that he thought it was better to leave approximately 2,500 U.S. soldiers in Afghanistan and seek a peace deal between the Taliban and the Afghan government during congressional testimony in September. Milley said however that all military generals agreed to recommend that the U.S. adhere to the August 31 deadline for evacuation.
We have reached out the Joint Chiefs of Staff for comment on Trump's remarks.