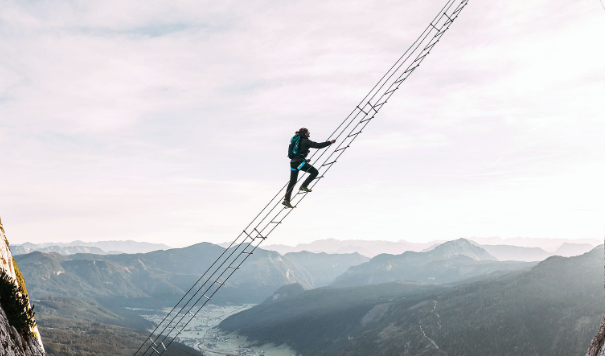 A British man, aged 42, tragically lost his life in Austria when he fell 300 feet after slipping from a ladder bridge in the renowned Dachstein Mountains. This location is frequently visited by tourists seeking picturesque Instagram photos. The identity of the victim remains undisclosed, and the incident occurred while he was on the well-known 130-foot ladder, where he encountered difficulties and descended into the valley beneath.
The ladder serves as a link between the lower section of the Donnerkogel mountain and the higher part known as the Großer Donnerkogel, encompassing the 6,740-foot summit.
According to reports, investigators have classified the man's descent as an unintentional mishap and have dismissed any involvement of third-party negligence.
Promoted as the latest premier attraction for climbing enthusiasts on the Zwieselalm by the Dachstein region tourist website, the ladder climb is organized into four stages, with the ladder itself offering the ultimate adrenaline rush.
This ascent is categorized as a via ferrata, often referred to as an "iron path." It involves the utilization of steel cables, rungs, pegs, and ladders, with climbers securely harnessed to ensure their safety.
The retrieval of the man's remains from the gorge was conducted by two helicopters and involved the participation of officers from two neighboring police departments.
On Instagram, numerous adventure enthusiasts have shared their encounters while conquering this exhilarating tourist feature, occasionally referring to it by its colloquial name, "the stairway to heaven."
The climb is classified as moderately challenging to difficult and is not recommended for individuals with limited climbing experience.
Numerous Austrian municipalities have grown weary of tourists inundating their localities in pursuit of social media material, with some going to the extent of pleading for solitude.
In May, the quaint village of Hallstatt took the step of closing off access to its renowned lakeside vista due to an influx of tourists who flocked to the town to witness what is believed to be the source of inspiration for various scenes in the Disney movie "Frozen."
Mayor Alexander Scheutz noted that the town, which normally has 750 permanent residents, was besieged by over 7,000 daily visitors who came to admire the landscapes that served as the inspiration for "Arendelle" in the 2013 film.
Earlier this month, a 55-year-old man from Virginia lost his life while undertaking the challenging 24-mile Rim-to-Rim hike within the Grand Canyon.
On Saturday, September 9th, around 2 p.m., first responders received an emergency call reporting a distressed hiker in the vicinity of a campground along the North Kaibab Trail. Ranjith Varma, the hiker in question, fell unconscious and required an airlift out of the canyon. Despite the life-saving efforts of park rangers, unfortunately, they were unable to revive him.