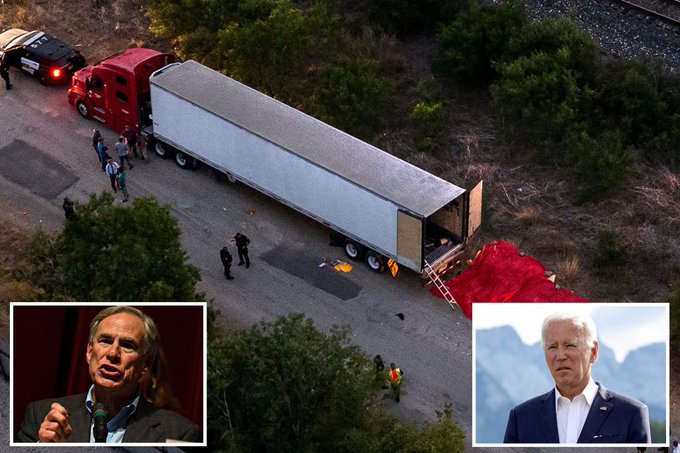 Texas Governor Greg Abbott reacted angrily and accused President Biden of being responsible for the deaths of 50 migrants, whose remains were discovered in a tractor-trailer in sweltering heat during what was likely an attempt at smuggling.
The victims were found in the back of an 18-wheeler in San Antonio on Monday night, and hours later the Republican governor tweeted, "These deaths are on Biden."
Several other Republicans also attributed the incident to Biden's immigration policy. Texas Senator Ted Cruz tweeted, "How many more people have to die before Dems give a damn? "
Only when a city worker heard a truck's call for assistance soon before six o'clock in the evening were the remains found, according to Police Chief William McManus.
At Least 42 People Found Dead Inside Truck Carrying Migrants In Texas.

These deaths are on Biden.

They are a result of his deadly open border policies.

They show the deadly consequences of his refusal to enforce the law. https://t.co/8KG3iAwlEk

— Greg Abbott (@GregAbbott_TX) June 28, 2022
The dead toll was raised from 46 on Monday to 50 on Tuesday morning, according to a federal law enforcement officer.
One of the fatalities was lying on the ground outside the trailer when responding cops arrived. Several body bags covered the ground by the time darkness fell, and several of the victims were still inside the trailer.
16 survivors, including four children, were reportedly taken to a hospital right after to receive treatment for heat-related diseases. According to Fire Chief Charles Hood, the patients were both dehydrated and hot to the touch.
They were exhausted and experienced heat stroke. Although it was a refrigerated tractor-trailer, there was no clearly apparent AC unit in operation on the vehicle.
In the midst of an extended heat wave, San Antonio had a high temperature of 103 on Monday.
Although three persons were detained, it wasn't immediately obvious how they were connected.