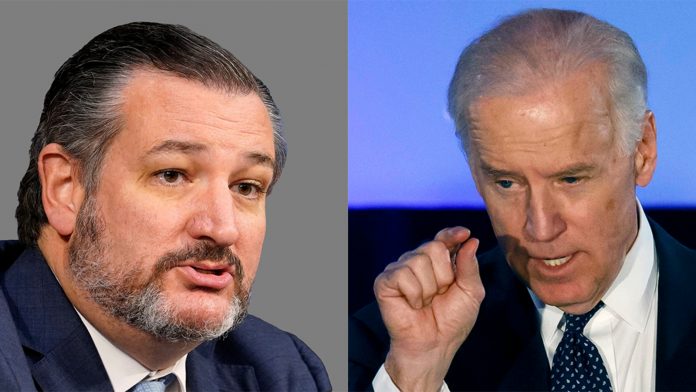 What's Happening:
Few people in D.C. are standing up for Americans. Ted Cruz, Senator of Texas, is one of these people.
Since the beginning, he has spoken out against Joe Biden's corrupt administration.
He's quick to drop the truth bomb on the country even if it's not popular.
He just turned the tables on Joe and Kamala, his henchwoman. He accuses them of being at the root of the border crisis.
From Twitter:
Joe Biden and Kamala Harris are the root cause of the border crisis. pic.twitter.com/p8hxn2tJNs

— Senator Ted Cruz (@SenTedCruz) August 6, 2021
While Democrats may be trying to ignore the growing crisis at the border, it isn't going away.
They try to put the blame on Trump, even though they admit it. Yeah, we're buying that.
Ted Cruz criticized the administration for its failed leadership and policies.
The Democrats seem to have a short memory. It was January when Joe Biden erased all of Trump's policies to protect our borders.
This triggered a huge surge at our border.
Instead of trying to fix the problem himself, he called Kamala Harris.
Harris wasted money and time doing nothing. Harris claims that she is working to address the root causes of the crisis.
So, she travels to foreign countries and promises them aid. Yeah, that'll keep them away!
We are now facing a national security crisis because Biden and other companies refuse to do anything.
You can throw as much money into corrupt foreign countries as you like. They will continue to send us hundreds of thousands of people.
Reinstating border protection is the only way to solve this problem. Restart the border wall project. Deport illegal aliens. Turn away anyone who wants to cross the border.
Until Biden does that, the problem will continue.
Key Takeaways:
Ted Cruz called Joe Biden and Kamala Harris the root of the border crisis.
Joe Biden ended policies that secured the border.
Harris has done nothing to address the issue at the border.