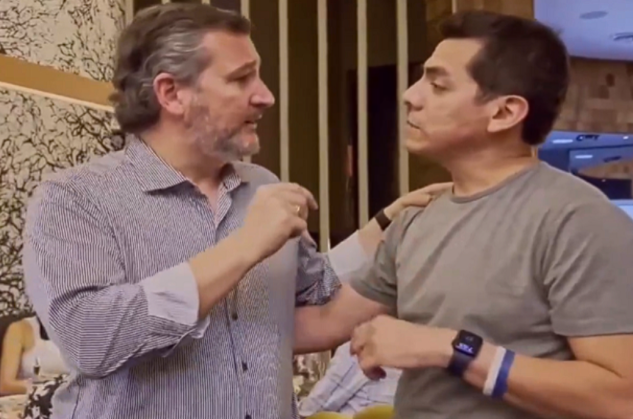 In the aftermath of the Uvalde, Texas school tragedy, a viral video shows an activist criticizing Texas Senator Ted Cruz for his pro-gun beliefs.
The altercation was captured on camera on Friday, just hours after the Republican legislator gave a speech at the National Rifle Association conference in Houston.
"Why is it that this keeps happening?"
"An enraged guy cries, accusing Cruz of "grabbing blood money" for delivering the speech just days after the terrible shooting at Robb Elementary School, which killed 19 children and two adults.
As security drags him out of the diner, the activist, identified as Benjamin Hernandez of the leftist group Indivisible Houston, shouts.
According to footage, Hernandez approached Cruz peacefully and wanted a photograph, which Cruz granted.
After the flash, Hernandez approaches Cruz, asking why he refuses to support further background checks for gun buyers.
Cruz says, "Background checks wouldn't have stopped the shooter." "Do you know what would have happened?" "The bill I proposed-"
Hernandez soon cuts Cruz off, causing him to become extremely furious.
As the verbal spat intensifies, Cruz's security detail intervenes and instructs Hernandez to back up before being shoved out.
Later on Twitter, Hernandez justified his conduct.
"I wasn't going to let that f—ker walk into my restaurant and not hear me." They have the ability to accomplish anything, but they do not want to. So let's give it to them," he wrote.
"At all times, challenge them. In a follow-up tweet, he wrote, "Don't stop until they do something."
Cruz attacked Democrats for advocating for stronger gun controls during his address at the NRA conference. Instead, he advocated for stronger school security, including single-door entrances and armed guards to prevent school shootings.