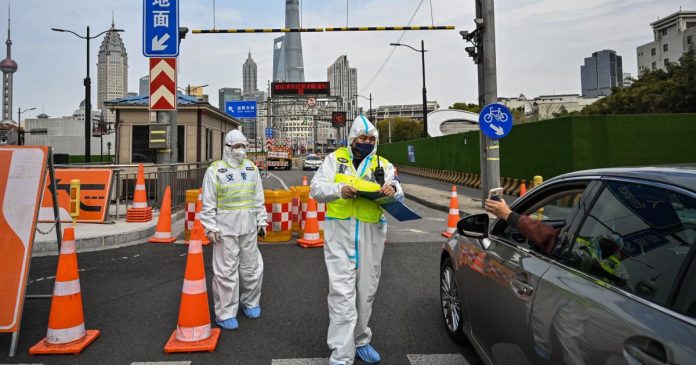 As an Omicron-fueled Covid-19 wave creeps through mainland China's most important financial hub, Shanghai has began its gradual lockdown, resulting in the country's biggest caseloads since the pandemic's early days.
Officials stated the eastern side of the Huangpu River, which divides Shanghai, would be under lockdown from Monday through Friday, with similar restrictions beginning on April 1. Covid testing is also being carried out in large numbers throughout the city.
The 25-million-strong metropolis has recently emerged as the epicenter of a nationwide outbreak that began in early March and has since spread across the country.
As the authorities considered the zero-Covid policy earlier this month, President Xi Jinping urged his subordinates to minimize the virus's economic impact. China's stock market maintained its downward trend on Monday, with the benchmark CSI 300 index plunging 2% in morning trading.
On Saturday, just 24 hours before the final decision was made, the Shanghai authorities ruled out a lockdown, citing the potential economic damage.
On Sunday, however, Shanghai recorded a total of 3,450 asymptomatic instances, accounting for roughly 70% of the nationwide total, as well as 50 symptomatic cases, according to the city authorities.
On Monday, China's National Health Commission reported 5,134 new asymptomatic cases and 1,219 local confirmed illnesses for the previous day.
Although the case numbers are little in the grand scheme of things, they are the highest in China since the pandemic began in late 2019, when it was first recorded in the city of Wuhan.
Beginning Monday morning and concluding on April 1st, the city's enormous eastern half, known as Pudong, which includes the main international airport and financial area, would be closed for testing.
The city's western half, known as Puxi and home to the historic Bund riverfront, would thereafter be shut down until 5 April, according to the administration.
During the lockdowns, residents were encouraged to stay indoors, and all company employees and government personnel who were not involved in the delivery of essential services were instructed to work from home. The stay-at-home order would not apply to those who provide essential services such as gas, power, transportation, sanitation, or food supply.