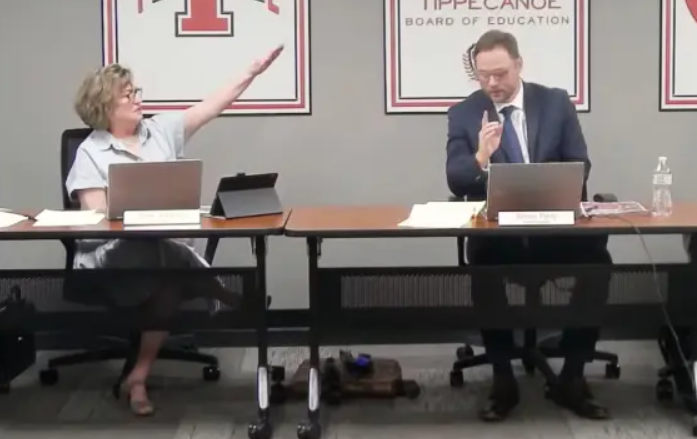 During a recent school board meeting in Ohio, a board member made a sarcastic gesture resembling a Nazi salute and chanted in a mocking manner directed at the board's president. This happened as a response to what was perceived as authoritarian behavior by the president during the meeting. Shortly after this incident, the board member resigned from their position.
On the evening of Tuesday, September 5, Simon Patry, the President of the Tipp City School Board, was discussing the issue of transparency regarding ongoing district projects. Anne Zakkour, another board member, attempted to interject during his speech, but Patry chose not to engage with her, leading to the aforementioned incident and subsequent resignation.
"I'm talking, do not interrupt me, do not make any noises or else I will, I will not tolerate it. Stop talking," Patry firmly insists in the captured video clip.
Zakkour expressed her dissatisfaction with the president's dismissive response and loudly exclaimed, "Oh, Sieg Heil," while raising her left arm and gesturing towards Patry.
The passionate board member explained that her actions were intended as a symbolic protest against Patry's behavior.
"Mr. Patry has been acting like a dictator on our board for years and last night I had enough of his demands of total obedience. My reaction last night was symbolic and a sarcastic gesture of submission to a board officer acting as a dictator. Enough is enough!"
Patry proposed a motion to appoint Amber Drum, the board's Vice President, as the new board president. However, Zakkour interjected, seeking clarification regarding the terminology used for Drum's position and her term, much to Patry's irritation.
The updated roles have already been updated on the school district's website. It remains uncertain whether Patry's resignation was connected to Zakkour's gesture.
Tipp City is situated approximately 16 miles north of Dayton and has a student enrollment of 2,356, with over 92% of the student body being of Caucasian descent.
Zakkour's remark and salute occurred several hours after an incident at the US Open, where a spectator was ejected from Arthur Ashe Stadium for reportedly uttering a similar phrase.
During the intense Round of 16 match between Alexander Zverev and Jannik Sinner, the German tennis star accused a fan of shouting the most well-known phrase associated with Hitler. The individual was promptly removed from the stadium, and Zverev ultimately emerged victorious in the match.