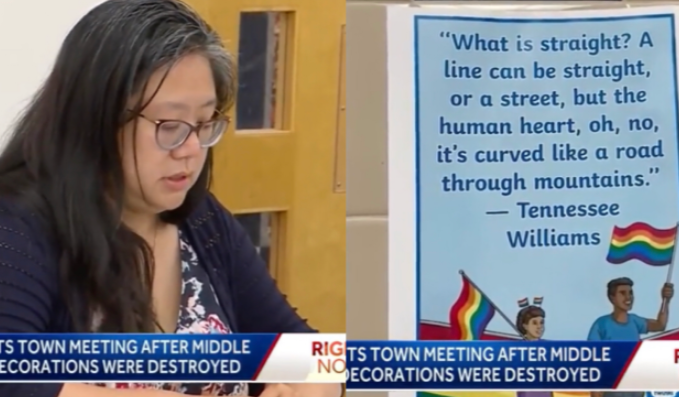 School officials in a Massachusetts school district are extremely angry following the defiance of students who chose not to comply with the requirement of wearing gay Pride attire and instead staged a counter demonstration.
At Marshall Simonds Middle School on June 2, students were instructed to wear shirts displaying rainbow colors as a sign of solidarity with Pride month. However, a significant number of students declined to participate and organized a protest in response. They opted to dress in red, white, and blue and identified themselves with the pronouns "U.S.A." Moreover, it has been reported that these students removed decorations associated with Pride.
As a result, community leaders who prioritize equity were given the opportunity to address the Select Board during their meeting on Monday.
Nancy Bonassera, co-chair of the Burlington Equity Coalition, strongly criticized the alleged intolerance and homophobia demonstrated by the students at the middle school. According to a Boston Globe report, she expressed her disappointment that instead of embracing a day meant for celebration, a counter-demonstration took place. She highlighted that students wore red, white, and blue attire, chanted "my pronouns are USA," and reportedly vandalized rainbow decorations at the school.
School officials are in panic mode over kids revolting against "Pride Day"

Kids refused to wear colors and some even chanted that their pronouns are USA pic.twitter.com/xuNBlMCrdq

— End Wokeness (@EndWokeness) June 13, 2023
She further urged the leadership of Burlington to proactively oppose hate disguised as "free expression." The group not only demanded severe consequences for the students involved but also insisted that the district should employ a director specializing in diversity, inclusion, and equity.
Another board member commented, "This kind of abhorrent rhetoric starts in the home."
In a prepared statement, Martha Simon, the chairwoman of the School Committee, stated that the district devoted substantial time last week to engaging with students in order to assist them in comprehending the impact of their words and actions on others. She also informed the Boston Globe that the committee intends to persist in discussing the work related to diversity, equity, and inclusion (DEI) within the Burlington Public Schools.
The school principal, Cari Purchase, informed parents that the school administration plans to explore the implementation of a "program" aimed at educating the protesting students about the consequences of their actions.
Support for this approach came from a district parent who disclosed that her child experienced mental health challenges after publicly revealing their sexual orientation.
However, a different parent expressed to ABC Boston that the responses from school administrators were exaggerated. According to her, her daughter felt pressured to participate in an event that she disagreed with and simply chose not to take part.