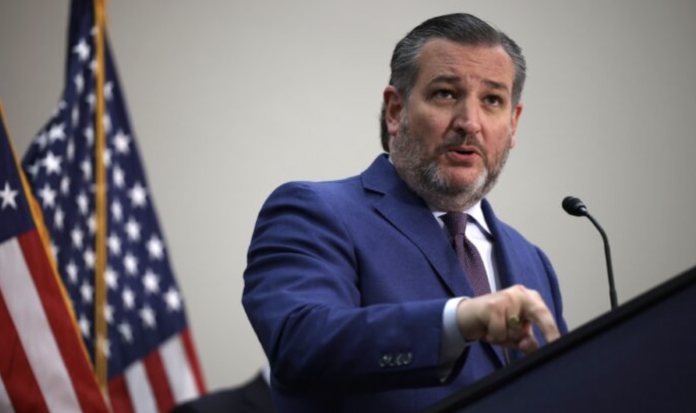 Ted Cruz, a Republican from Texas, was confronted by a fellow traveler on Thursday over school safety policies and gun legislation. This led to Ted Cruz calling him a "partisan."
The passenger recorded a Sept. 15 tweet video and posted it. It shows the Texas Republican lawmaker collecting his luggage and coat after landing in Houston. He then joked about his trip.
"We're in Houston? I thought we were going to Cancun," a male voice first appears in the video, referencing the Mexico trip Cruz took last February while many Texas residents grappled with power outages under severe weather.
This person quickly attracted the attention of Senator by raising the issue of Uvalde's mass school shooting on May 24, in which an 18-year old shooter killed 19 students, and two teachers. "Senator, thank you for everything you've done since Uvalde. All those podcast episodes must have raised a lot of money for you."
He then criticized Cruz for opposing a bill to tighten gun laws. The bill passed the Senate and House and was signed by President Joe Biden on June.
Cruz responded by pointing out that Senate Democrats on Wednesday blocked his proposed Securing Our Schools Act (pdf) that would have doubled the number of police officers in public, charter, and private schools, strengthen physical security measures such as alarm systems and locks, and put thousands of mental health professionals in public schools.
Sen. Chris Murphy (D-Conn.) objected to passing the bill on the Senate floor on Sept. 14, accusing Cruz of pushing "theater," along with another bill (pdf) from Cruz that would have allowed schools to use unspent education-related COVID-19 funding to improve school security.
The man questioned the senator's efforts and claimed that he was busy with his podcasts. Cruz hosts the podcast, where the senator discusses important political issues. Later, the passenger asked Cruz if he knew the names of Uvalde's victims.
Beto supporter asks @tedcruz to name a single Uvalde shooting victim. pic.twitter.com/i2l3k8uzE0

— Thinking Politely 🤔 (@PolitelyWest) September 16, 2022
"I do," Cruz said in response. "And ask why Chris Murphy objected and stopped the biggest school safety bill that's ever passed yesterday." Cruz attended a community vigil at the Uvalde on May 25, the following day of the school shooting when he was seen wiping away tears and praying with others.
During the exchanges, Cruz was repeatedly interrupted by the traveler before he could complete his responses to his questions. He was told by a witness to listen to him, while another person said that Cruz should "fly in peace".
"You don't care about the facts," Cruz said to the man at the end. "You're a partisan, that's OK."
The heckler's user information on Twitter shows he is a supporter of Beto O'Rourke, the Democratic gubernatorial candidate for Texas governor who will face Republican Gov. Greg Abbott in November.
Cruz once called his sponsored school safety policies "the most serious, the most significant, the most major investment in school security Congress has ever enacted."
"What we just saw reveals that the Democrats have one objective when a mass murder happens, and that is to take away the Second Amendment rights of law-abiding citizens," he said in a Sept. 14 statement. "If another lunatic attacks a school, and there's not a police officer at the front door to stop it, remember right now. Remember this moment when the Democrats said, 'No, we will not protect our kids.'"