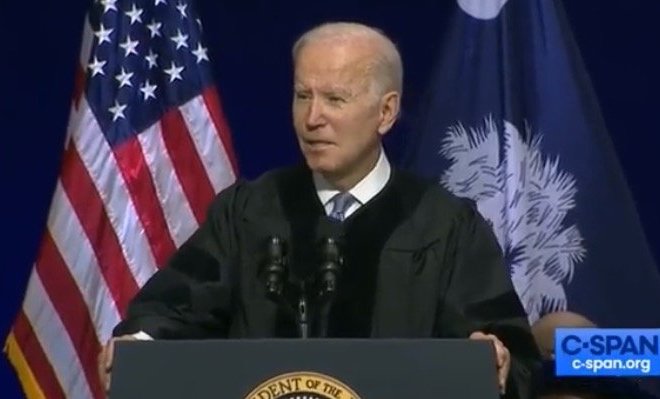 During the commencement speech at South Carolina State University, President Joe Biden made a mistake when he suddenly called Vice President Kamala Harris "President Harris".
"President Harris is a proud Howard alumna, she might have something to say…" Biden said to them in front of a whole crowd of students who were graduating.
This was because Democrats, including Harris and Transportation Secretary Pete Buttigieg, are vying to replace Biden (79), if he does not seek a second term in 2024.
Biden claims he intends to run again. However, he is already the oldest president in history and many Democrats doubt he will run again.
Biden continued to tell the college's new graduates of the historically black college about the seemingly impossible technological advances they would make in their lifetimes. He also outlined a Democratic election strategy that focused heavily on Jan. 6 Capitol Riot and antiracism as the legislative agenda he stalled amid high inflation and a decline in his approval ratings.
BIDEN: "President Harris is a proud Howard alumn…"pic.twitter.com/V1EHVaRdDv

— Breaking911 (@Breaking911) December 17, 2021
Biden also made an extremely interesting but quite bizarre claim during that graduation speech when he claimed that he had "desegregated movie theaters and restaurants" during the civil rights movement era.
WATCH:
Joe Biden tells HBCU graduates that he "desegregated restaurants and movie theaters" during the Civil Rights movement.

This is completely FALSE. pic.twitter.com/umUMAtlpsP

— RNC Research (@RNCResearch) December 17, 2021
"I was not an activist.. I was not marching. I was not down in Selma," Biden previously said as a US Senator when he was not suffering from dementia.
"Joe Biden was 100% against ending school segregation by using desegregated busing. He even "predicted" that young Black Leaders would side with him. He is trying to rewrite history."