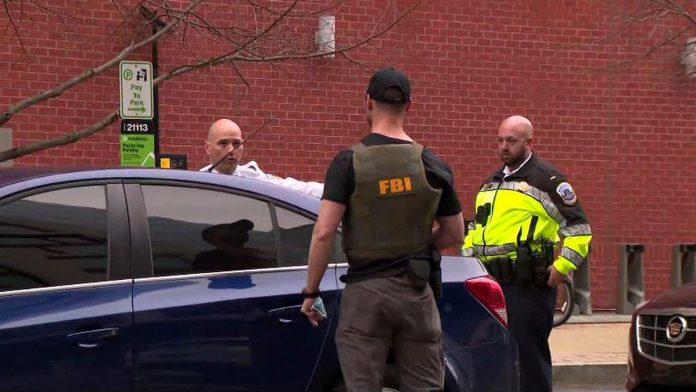 On April 6, FBI officers descended on a Navy Yard housing complex. Tactical squads have been dispatched. It was a large-scale police operation.
FBI/DC police swarming in Navy Yard SE between K and I. pic.twitter.com/PTyt3Feb9J

— Kelly Laco (@kelly_laco) April 6, 2022
two individuals accused of masquerading as federal agents and having links to Pakistani intelligence. This charade has apparently been going on for a number of years. The two guys entered and ingratiated themselves among Secret Service and Department of Homeland Security workers, according to authorities.
Per source pic from one hour ago. All unmarked cars surrounded The Crossing on 1st St. "Weapons and shields drawn out and they went in tactical formation." pic.twitter.com/t8arYDJlaW

— Kelly Laco (@kelly_laco) April 6, 2022
A federal prosecutor said Thursday that one of two individuals accused of acting as federal law enforcement officers and ingratiating themselves with Secret Service agents had credentials for trips to Iran and Pakistan and told others that he had contacts to Pakistan's intelligence service.
The government wanted Haider Ali and Arian Taherzadeh, who were arrested Wednesday on charges of impersonating federal law enforcement, specifically with the Department of Homeland Security, held in jail while they await trial, claiming they posed a flight risk and possessed firearms, according to Assistant US Attorney Joshua Rothstein.
According to residents, the tactical team inside has been breaking down doors. A crowd of residents have gathered outside, but they say they have NOT been told by their building to evacuate.

— Kelly Laco (@kelly_laco) April 6, 2022
Taherzadeh, 40, and Ali, 35, were accused in a hoax that began in February 2020 and concluded only after a postal inspector discovered the couple in a separate case, according to prosecutors. The guys, according to prosecutors, ingratiated themselves with and penetrated Secret Service agents and DHS workers who resided in their D.C. apartment, but federal law enforcement authorities would not explain what drove them or what they sought in return. Construction of an apartment complex. The men have only been charged with fraudulent impersonation of a federal official so far, however Rothstein said Thursday that the government will almost certainly add a conspiracy charge.
UPDATE: Two men posed as federal agents, provided Secret Service officers with iPhones, apartments, officials allegehttps://t.co/KyjNLi7DZ7

— Kelly Laco (@kelly_laco) April 7, 2022
According to an affidavit filed by an FBI agent in the case, the men showered presents on Secret Service officers, including $40,000-a-year rent-free residences, iPhones, surveillance systems, a drone, a flat-screen TV, and a generator, and it was unclear what, if anything, they sought in return.
Four Secret Service employees were placed on leave in connection with the case, despite the fact that the bureau described them in court filings as witnesses who appeared to have been misled by a well-executed ruse.