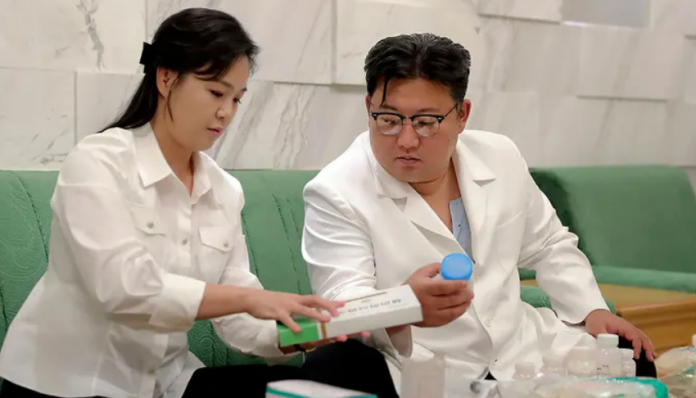 On Thursday, North Korea announced the advent of a new intestinal ailment, an odd revelation from a country already dealing with a COVID-19 outbreak and severe economic upheaval.
The number of persons afflicted in what the Korean Central News Agency described as an acute enteric outbreak in southern Haeju city is unknown.
The disease was not named by the agency, but enteric diseases include typhoid, dysentery, and cholera, which are caused by germs in contaminated food or water or contact with sick people's excrement. In North Korea, where there are few water purification facilities and the public health system has been mostly dysfunctional for decades, such infections are common.
The goal of the revelation, according to some observers, was not so much to reveal the illnesses as it was to highlight that North Korean leader Kim Jong Un contributed medicine from his personal supply, an apparent attempt to buff his image at a time of tremendous hardship.
Kim reportedly contributed medication from his family's stocks, according to the official Korean Central News Agency. Kim and his wife, Ri Sol Ju, were seen on the front page of the country's leading Rodong Sinmun newspaper, gazing over saline solutions and medication that they allegedly gave.
Defectors claim it's usual for everyone who can store medication inventories in their homes in a country where power is concentrated in the hands of a small governing class and hospitals sometimes lack even basic supplies, and prominent officials are often able to stockpile more than regular residents. Observers also speculated that the donated medication came from state storage facilities and was provided in Kim's identity.
North Korea reported an increase in the number of fever cases last month. A significant percentage of the cases, according to South Korea's intelligence service at the time, comprised individuals with measles, typhoid, and whooping cough.
Although a top World Health Organization official indicated this month that the outbreak is increasing, North Korea recently claimed success in limiting the spread of COVID-19 among the unvaccinated populace.