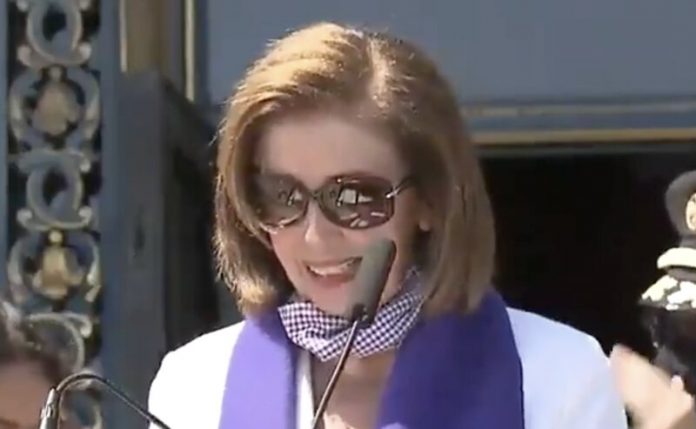 Nancy Pelosi smiled at a San Francisco speaking event to mark "Women's Equality Day", a day in which at least 13 Americans were killed by ISIS suicide bombings.
Pelosi did not mention the attacks during her speech. Pelosi was actually all smiles and cracked jokes.
Ironically, the only "attack" she referenced was the "attack on voting rights". Yes, really.
Watch The Video Below:
Nancy Pelosi jokes around for 6 minutes while completely ignoring the 12 U.S. service members killed by terrorists in Afghanistan. Unacceptable. pic.twitter.com/dvzc0V376K

— RNC Research (@RNCResearch) August 26, 2021
The Speaker of the House was absolutely rocked by Twitter:
Speaker Pelosi: "An attack on the right to vote. That is happening in our country." pic.twitter.com/6aHcsfxLJu

— The Hill (@thehill) August 26, 2021
How is this real? There is an ongoing terrorist attack at the airport in Kabul. Marines and soldiers have died in service to our nation.

Yet, Speaker Pelosi is tweeting about Biden's socialist wish list.

This is beyond shameful. https://t.co/ryXw9kV2n6

— Rep. Dan Bishop (@RepDanBishop) August 26, 2021
Nancy Pelosi is a traitor to her country.

— Brigitte Gabriel (@ACTBrigitte) August 26, 2021
Nancy Pelosi spoke for 6 minutes but said NOTHING about our 12 service members who were killed this morning. https://t.co/9bV9YZNN2x

— Kyle Martinsen (@KyleMartinsen_) August 26, 2021
Today marks the deadliest attack on US troops in a decade, with 13+ service members dead

…and Nancy Pelosi is in San Francisco talking about the GOP "attack" on voting rights

These people have disgusting contempt for you and they don't care if you know.pic.twitter.com/47fXEdeV1K

— Charlie Kirk (@charliekirk11) August 26, 2021
America is falling apart and the drivers are all asleep at the wheel. Biden is AWOL. Congress isn't in session because Pelosi's fucked off somewhere.

— Ian Miles Cheong @ stillgray.substack.com (@stillgray) August 26, 2021