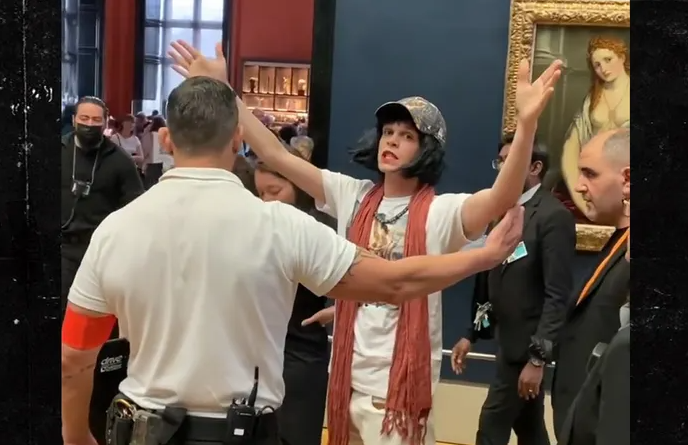 Someone attempting to deface the Mona Lisa is the ultimate kind of blasphemy in the realm of art.
It took place at the Louvre Museum in Paris, of course. A man in a wheelchair dressed as an elderly lady sprang up, removed his wig, and tossed a piece of cake at the Leonardo da Vinci masterpiece.
No harm was done to the picture because it was covered by glass and who knows what else, but it was certainly a scene.
When hurling the desert, the guy yelled to the gathering to think about planet Earth. The stain was visible since it was laced with cream. In addition, he put flowers inside the exhibit.
Un señor con peluca y en silla de ruedas le ha lanzado una tarta a la Mona Lisa.

Se desconocen las razones pero es una de las cosas más absurdas del fin de semana. pic.twitter.com/pnPQLVGTKG

— #PorQuéTT (@xqTTs) May 29, 2022
"Think of the Earth. There are people who are destroying the Earth. Think about it. Artists tell you, think of the Earth. That's why I did this." he cried.
The smudge on the window was swiftly cleared by Louvre employees. The vandal was taken away for mental treatment, according to reports.
The Renaissance painting from the 16th century has been the subject of various attacks. A Louvre employee swiped it in 1911. It was seriously damaged by sulfuric acid in the 1950s and has been protected behind bulletproof glass ever since.
The perpetrator had gotten near to the painting by feigning a handicap, allowing them to take advantage of a policy meant to let persons with mobility issues see the key pieces in the exhibition fully.
The suspect was apprehended and removed by reception and surveillance officials before being turned over to the police. A complaint was filed by the Louvre Museum.
The museum commends the promptness with which its agents responded during this occurrence.