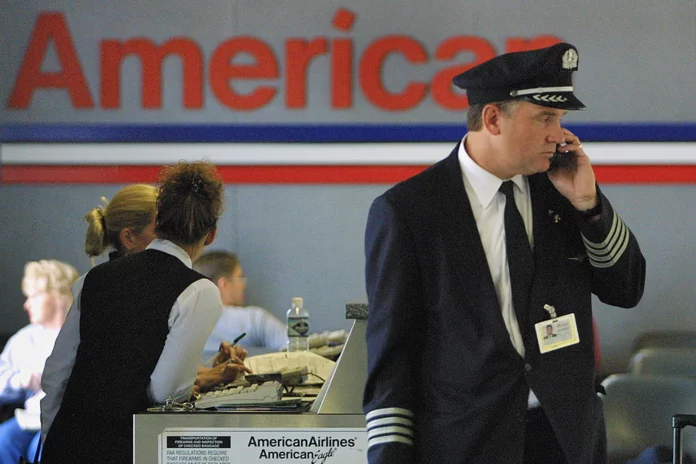 The pilots' union verified that American Airlines will provide triple pay to pilots who were impacted by a computer error that caused more than 12,000 flights scheduled for July to be canceled from their schedules.
Last week's error allowed pilots to unintentionally delete the excursions from their plans, which led to the problem. The mishap happened at a time when American Airlines and other US airlines are facing harsh criticism for persistent flight cancellations during the peak summer travel season.
The airline will offer triple compensation for flights that were cut from pilots' schedules in July and then unexpectedly reinstated, according to the union that represents American's pilots.
As part of the deal to fix the scheduling problem, pilots will also be paid twice during certain holiday periods.
In a letter to union members, APA President Ed Sicher stated, "We did not create the present situation and have worked hard to resolve the problems that management created."
Sicher continued, "While we of course cannot and should not fix management's problems, we will continue to offer solutions to mitigate the negative impact on our members' lives and improve the working relationship between APA and management."
Over 12,000 planned flights were missing a captain or first officer as a result of abandoned assignments, according to APA, who first reported the problem last week.
Major US airlines have experienced months of flight cancellations and delays due to a shortage of pilots and other crucial employees. As travel resumes after a break caused by the epidemic, carriers are having difficulty keeping up with the soaring demand.
American Airlines' pilots union and the airline have had particularly tense relations, with pilots openly complaining about their lack of a work-life balance and their demanding schedules during ongoing contract discussions.
The most recent offer from American Airlines would see a 17 percent pay boost for pilots, as well as scheduling adjustments and increases of up to $64,000. The American offer also includes improved conditions for profit-sharing and retirement savings accounts.