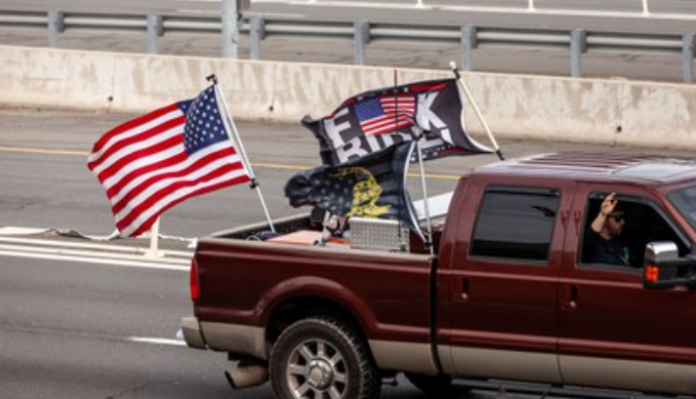 Under the terms of a lawsuit settlement entered in federal court on Friday, a vacation island town off the coast of Louisiana will repeal an anti-obscenity statute and allow a contractor to fly a banner from his truck with an obscenity intended at President Joe Biden.
Ross Brunet, a regular worker on Grand Isle from Cut Off, Louisiana, was represented in a case filed in January by the Tulane First Amendment Law Clinic against the town. Three flags were allegedly frequently flown from his pickup, per the lawsuit. One focused on raising awareness of breast cancer. Two of them were obscene and targeted Biden supporters.
👏👉Louisiana island town to repeal ordinance, let driver fly vulgar anti-Biden flag https://t.co/yXOVz8eO3V

— Jon Nicosia (@NewsPolitics) September 17, 2023
The lawsuit claims that Brunet received seven tickets. He dismissed four separate tickets with no trouble at all. Even though he was successful in court, he was nevertheless issued three more tickets afterward. The last three charges were dismissed after the municipality passed a law that stated car signs "shall not contain language deemed offensive and vulgar nor obscene in nature and cannot contain language that describes a sex act."
According to the compensation deal signed on Friday, Brunet "was wrongfully cited for engaging in constitutionally protected speech of flying flags with political messages." Brunet is awarded a total of $40,000, including damages and attorney fees. The rule will be revoked by Grand Isle officials by October 20th, according to the document. Brunet will end the legal action in exchange for this.
The deal has been submitted to a federal judge for approval.
Why did we even have to deal with this? Every day of Trump's presidency, prominent figures in the public and media made crude comments about the president. You couldn't avoid it. The timing of this fury seems odd.