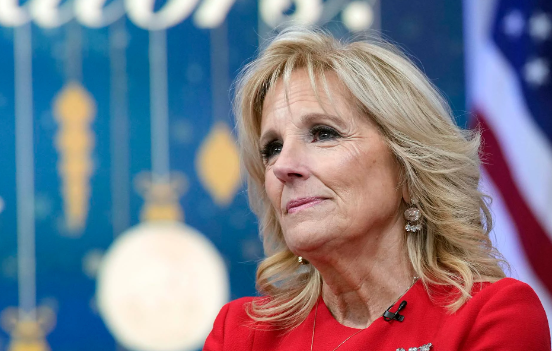 According to the chief physician at the White House, Jill Biden will undergo surgery the next week after a small lesion was discovered under her right eye during a routine skin cancer check.
In a memo to the first lady's press secretary, Physician to the President Dr. Kevin O'Connor stated that
"In an abundance of caution, doctors have recommended that the lesion be removed."
The First Lady will have a routine outpatient procedure called Mohs surgery on Wednesday, January 11 at Walter Reed National Military Medical Center to remove and thoroughly examine the tissue. O'Connor promised to keep the Office of the First Lady updated on any changes to the 71-year- old's condition or treatment plan.
The Mayo Clinic states that Mohs surgery involves removing very thin layers of skin to check for any indications of cancer. Most individuals don't need to stay in the hospital after having Mohs surgery because the region being treated is anesthetized.
According to Mayo Clinic , "The goal of Mohs surgery is to remove all of the skin cancer without hurting the healthy skin around it. Mohs surgery allows the surgeon to be sure that all the cancer is gone. This makes it more likely that the cancer is cured. It reduces the need for other treatments or more surgery."
Supporting initiatives to discover a cancer cure has been one of Biden's primary priorities as first lady.
Biden took part in a Stand Up to Cancer homage at Philadelphia's Citizens Bank Park in November 2022, during the MLB World Series between the Philadelphia Phillies and the Houston Astros.
Biden paid homage to her stepson Beau, who passed away in 2015 from a brain tumor.