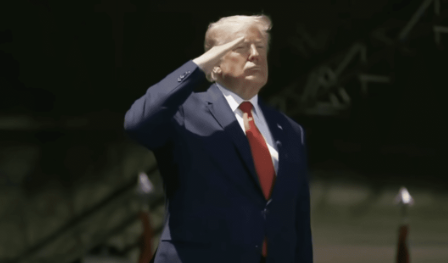 Faiq Zaidan, the head of Iraq's "Supreme Judicial Council," allegedly issued an arrest warrant for former President Trump, according to Baghdad Today, which was cited by IraqNews. According to a report in Iraq News on Friday, January 6th, the president of the Supreme Judicial Council, Faiq Zaidan, declared on Thursday that an arrest warrant had been issued for former US President Donald Trump.
"Zaidan mentioned in a statement that the Iraqi judiciary issued an arrest warrant for former U.S. President Donald Trump, who confessed to having committed the crime, calling on those investigating the assassination of the Quds Force commander, Qasem Soleimani, and chief of staff of the Popular Mobilization Forces (PMF) in Iraq, Abu Mahdi Al-Muhandis, to make an exceptional effort to uncover the perpetrators."
According to Charles Kennedy's piece on OilPrice, which highlights both the symbolic aspect of the warrant and the severe punishment that goes along with the crime that the Iraqi warrant accuses Trump of committing, "The arrest warrant charges Trump with premeditated murder. While the warrant is clearly symbolic, a conviction of this nature carries the death penalty."
Iraq, the second-largest oil producer in OPEC, is sandwiched between adversaries Iran and the US, while Iran's influence has increased dramatically since Saddam Hussein was overthrown in the wake of the US war in 2003.
In October, Iraq's parliament appointed a new pro-Iranian prime minister, breaking a protracted deadlock. Pro-Iranian parties currently rule the country after Shi'ite adversary Moqtada al Sadr, who had been crippling the government with anti-Iranian rallies, was cast aside.
In the summer of 2020, former President Trump gave the order to execute IRGC General Soleimani in a drone attack, eliminating the infamous supporter of terrorism. A US base in Iraq was targeted by Iranian missiles fired in retaliation.
Although international organizations like the UN criticized him for the action after it happened, many Americans applauded the strike and Trump's decision to take the fight to a renowned Iranian terrorist without initiating a bigger conflict with Iran, as his predecessors may have done.