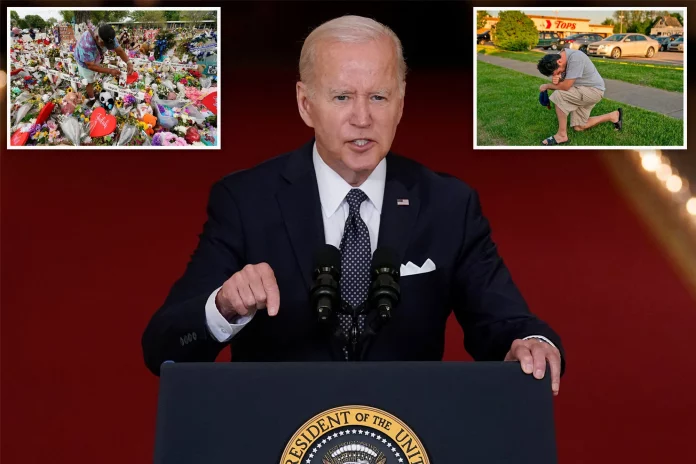 As the US grapples with a string of mass shootings, Republicans and conservatives slammed President Biden's primetime address Thursday, in which he called for a resurrected assault weapons prohibition and claimed that the Second Amendment was not absolute.
The president began his 17-minute statement by saying he honored the culture, tradition, and concerns of gun owners before moving to a Democratic wish list of gun control policies.
"Assault weapons and high-capacity magazines must be banned. And if we can't ban assault weapons, we should raise the purchasing age from 18 to 21," the president added.
While some Republican members of Congress have indicated interest in reaching a compromise on gun-control legislation, Biden's favored measures would face overwhelming opposition from the GOP's 50-member conference.
Republicans have long claimed that the president's and his Democratic colleagues' measures are either unlawful or ineffectual in preventing mass shootings, and many of them took to Twitter on Thursday night to criticize Biden's statements.
Rep. Darrell Issa (R-Calif.) commented, "President Biden had the opportunity tonight to help unite the country." "He didn't. He slammed everyone who disagreed with his gun control agenda. Then he asked that more Democrats be elected. "That was his worst speech yet."
"We've seen the President and House Democrats demonstrate a complete lack of understanding of firearms and a disregard for our rights in the last week." "Law-abiding citizens' Second Amendment rights must be protected," said Rep. August Pfluger (R-Texas).
Another fervent gun rights enthusiast, Rep. Lauren Boebert (R-Colo.), termed Biden's words unlawful.
Senators from both parties are negotiating measures to combat an increase in gun violence. If a deal isn't reached by next week, Senate Majority Leader Chuck Schumer (D-NY) has indicated he'll hold show votes on two House-passed legislation that would extend background checks for potential gun purchases.
Due to Republican opposition, neither bill will receive the requisite 60 votes to progress in the Senate.
The House Judiciary Committee unanimously endorsed a bill on Thursday that would raise the legal limit for purchasing semi-automatic guns from 18 to 21 years old and make the production and possession of large-capacity magazines illegal.