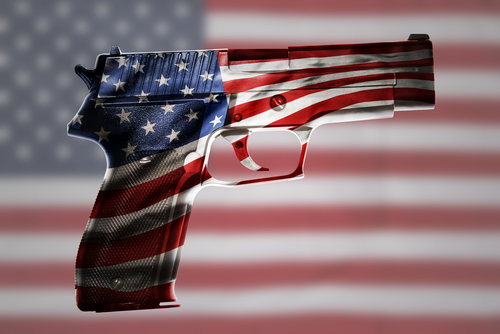 Since taking office, Biden has been seeking ways to whittle away at Americans' Second Amendment rights.
The president just announced strong regulations against phantom weapons earlier this week. Biden also made a variety of false comments regarding weapons in general during this announcement.
This is the same president who claims that handguns are military weapons capable of carrying hundreds of rounds of ammo.
Promises made, promises kept. Constitutional Carry is now the law of the land in Georgia. pic.twitter.com/1Xs5RebI9M

— Brian Kemp (@BrianKempGA) April 12, 2022
Second Amendment advocates, on the other hand, are fighting back as the White House wages war on gun rights. Nine states have enacted constitutional carry legislation during the Biden presidency.
Georgia became the latest state to allow constitutional carry this week, raising the total number of states that have legalized constitutional carry to 25.
Republican Governor Brian Kemp promised to sign a constitutional carry measure into law while the Georgia state legislature worked on it.
🇺🇸25 States Passed NRA-Backed Constitutional Carry – 9 Since Joe Biden Took Office

Thank you, NRA members. Your hard work, determination, and grit make America a safer place.

Half the country down, half to go. @BrianKempGA pic.twitter.com/CtJGR5Fbb7

— NRA (@NRA) April 12, 2022
Georgia's governor followed through on his promise on Tuesday.
During the signing ceremony, Kemp remarked that the adoption of constitutional carry gives law-abiding Georgians the ability to defend themselves without the need for state government consent.
Kemp later clarified that Americans' freedom to carry a firearm is guaranteed by the United States Constitution, not by a state-issued permission.
The gun rights movement and supporters of the Second Amendment in general have applauded Georgia's status as the nation's 25th constitutional carry state.
Other states, notably Florida, are actively considering constitutional carry measures. Like Kemp, Florida Republican Governor Ron DeSantis has pledged to sign the bill into law if it reaches his desk.
As a result, an increasing number of Americans are purchasing weapons, enrolling in firearms training schools, and even applying for concealed carry permits in states that have yet to recognize constitutional carry.
Despite their continuous opposition to gun rights, Democrats have unwittingly highlighted the need of Americans being able to defend themselves. The Biden administration and other Democratic politicians should not be surprised to see the gun rights movement gain traction as long as they continue to embrace policies that endanger public safety.