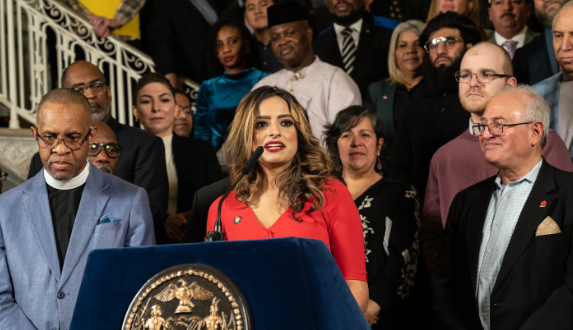 Democratic politicians convened outside City Hall on Monday, expressing their anger and frustration with Joe Biden's handling of the mounting migrant crisis. They criticized him for being unresponsive to the situation, which has resulted in illegal aliens resorting to sleeping on city sidewalks. The rally followed the White House's announcement of assigning only one staff member to coordinate the federal response with City Hall, a decision that local officials deemed wholly insufficient.
After a year of continuous efforts by Mayor Eric Adams and other prominent officials, requesting billions of dollars in immediate aid and a faster process for granting work permits to newly arrived undocumented immigrants, the assistance they received remains meager.
With the increasing influx of new arrivals in New York City, authorities are considering accommodating up to 1,000 undocumented immigrants in the parking lot of a mental hospital. Currently, hundreds of illegal aliens are already seeking shelter outside the Roosevelt Hotel in Manhattan. Mayor Eric Adams expressed concerns, stating that the situation is unlikely to improve and that available space is becoming severely limited.
New York Mayor Eric Adams on illegal immigrants:

"We have no more room in this city…and we need help."

"Sanctuary cities" feeling the pinch 😂#Immigration#NewYorkCity pic.twitter.com/e1YewdH6a7

— rico (@ricosuave14) July 23, 2023
City Councilman Robert Holden from Queens openly criticized President Biden, accusing him of being completely unaware of the problem. As a Democrat himself, Holden expressed his concern by stating, "The president's asleep at the wheel on this one, folks." He drew comparisons to a past incident involving former President Gerald Ford, who infamously refused to aid New York in the 1970s, and questioned the Biden administration's response, asking, "Where is the Biden administration?" Furthermore, he highlighted the long-standing nature of the issue, questioning whether any concrete plans have been proposed.
New York enjoying their sanctuary city status.

93,000 immigrants have arrived in NYC since the spring.

Roosevelt hotel, monday morning. pic.twitter.com/9xLJj4uQcW

— Raymond (@Raymond82310289) August 1, 2023
Brooklyn's progressive borough president, Antonio Reynoso, seemed to express disapproval of the White House's response as well. He stated that if other states are unwilling to take in migrants, Brooklyn is willing to welcome them, but with that responsibility comes the need for federal government assistance in addressing the problems caused by the migrant crisis in New York City. Reynoso emphasized that they are simply requesting the federal government to step up and take action.
The rally's organizer was state Assemblywoman Jenifer Rajkumar (D-Queens), a close ally of Mayor Eric Adams, who took the lead in organizing the event.