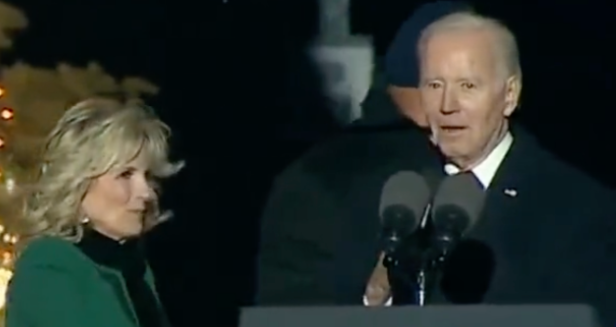 As you may be aware, Joe Biden, the president, has difficulties with almost everything. This man is constantly disoriented, whether it's in terms of managing the nation, using the English language, or even just finding out where he should be standing on a stage.
That resonated more strongly than ever on Wednesday night. Joe didn't know what to do after helping to light the National Christmas Tree near the White House.
Biden clung desperately to the microphone and cast a blank gaze into the abyss as Jill and LL Cool J waved goodbye to the audience. When his wife touched him and motioned for him to leave the stage, he appeared to be in a trance and had no idea where he was or what he was doing.
Confused old man takes the mic with him pic.twitter.com/6ANsfoNPrq

— Greg Price (@greg_price11) November 30, 2022
A Twitter user said, "It's the amphetamines they give him for dementia that causes his pupils to dilate making him sensitive to light."
Another one posted, "This would all be very funny but remember, he's got the codes."
"It's getting worse. Forget taking the mic… his confused stare is concerning to say the least. Also, am I the only one who notices that we've seen less of him. Not that I'm complaining 😜. Hmm, wonder what's up?," another one pointed out.