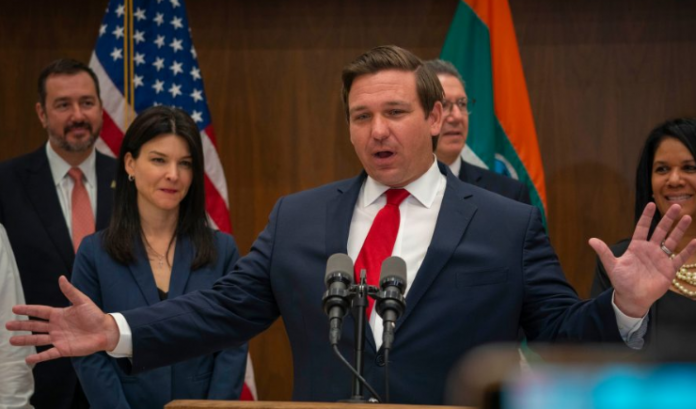 With the words "you loot we shoot," Florida Governor Ron DeSantis recently issued a warning to anyone in the state who might attempt to steal the valuables left in the wake of Hurricane Ian's path of destruction across the Sunshine State. The statement was praised by conservatives in general and derided by the left.
Recently, news that four illegal immigrants had been apprehended for looting and detained but later freed on $35,000 bail caused Governor DeSantis to become even more enraged about the looting. Speaking of the thieving illegal immigrants, DeSantis stated that they "need to be sent back to their home country."
"These are people that are foreigners; they're illegally in our country, but, not only that, they try to loot and ransack in the aftermath of a natural disaster. They should be prosecuted, but they need to be sent back to their home country. They should not be here at all."
Lee County Sheriff Marceno echoed what DeSantis said, "For any of those individuals that think they are going to go out there and loot or prey on people during this horrific event — you better think twice. When I say zero tolerance, zero tolerance means we will hunt you down, track you down, and you're going to jail. If you're lucky. I'm not playing. We're not playing. We have law and order, and great residents will be safe and secure. We've had arrests on these incidents. You might walk in, you'll be carried out."
They might have had good reason to ignore the advice given that only some of the dire warning materialized. The four illegals, Omar Mejia Ortiz (33), Brandon Mauricio Araya (20), Steve Eduardo Sanchez Araya (20), and Valerie Celeste Salcedo Mena (26), were apprehended after it was discovered that they were robbing an empty building.
Then, after posting a $35,000 bail each, they were released, and a court date was set for October 31. No firing. No looking for them or following them. No one was "carried out," only thrown in jail for a while before being told to return later. It may be necessary for the American (in)justice system, but it's not nearly as severe or deterrent as Governor DeSantis and Sheriff Marceno had in mind.