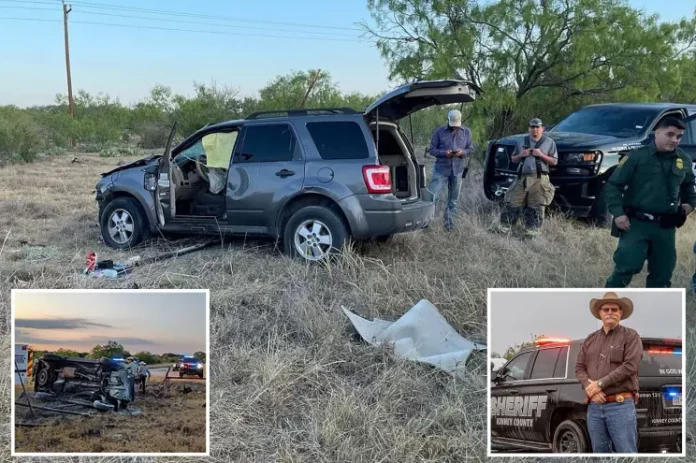 A Texas sheriff personally drove four arrested illegal immigrants back to the US-Mexico border to deport them, claiming that given the present border situation, he had no other option.
The migrants were found when a suspected smuggling truck that Kinney County Sheriff Brad Coe's officers were chasing crashed on Wednesday morning, he told the Epoch Times.
Inside the car, five illegal immigrants were discovered, including a lady who required medical attention for non-life-threatening injuries.
The sheriff claimed that Border Patrol officials had informed him that in order to detain the four additional migrants, a hospital visit for a medical evaluation was required.
In order to reach Eagle Pass, which has a legitimate port of entry into Mexico, Coe claimed to have loaded them all into his sheriff's car and driven there for an hour.
The four migrants were left by the sheriff in the middle of the international bridge.
The driver, a citizen of Mexico who was sporting cartel-related insignia, was taken into custody and is currently being held on seven criminal counts.
Although Coe said he is unsure whether his actions would have legal consequences, he claimed that local law enforcement shouldn't be forced to devote so much of its resources to the on-going border problem.
Since state and municipal governments lack the legal jurisdiction to deport immigrants, the American Civil Liberties Union has accused the sheriff of violating the law by attempting to do it himself.
On Wednesday, attorneys for the ACLU sought information from the Kinney County Sheriff's Office on the latest event and any other instances of attempted deportation of immigrants that were comparable.
During a news conference on Wednesday following the most recent human smuggling disaster that left 53 migrants dead in a scorching vehicle in San Antonio, Texas, Governor Greg Abbott of Texas praised Coe's decision.
In Kinney County, deputies have already detained 66 people traffickers this month alone.
It occurs at a time when interactions with migrants at the US border continue to surge to record highs, with a startling 239,416 engagements reported last month, according to data from Customs and Border Protection.
The most recent numbers bring the overall number of interactions with migrants during the fiscal year 2022 to over 1.5 million.