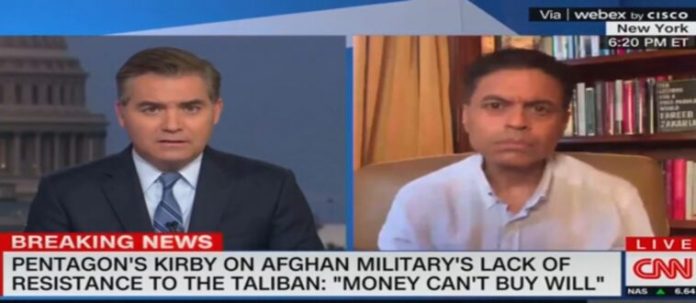 CNN isn't trying to hide the most devastating post-war collapse since U.S. withdrawal from Vietnam. Jim Acosta of CNN pointed out on Saturday that the Taliban took over at least 17 provincial capitals in the Biden administration as the terror regime overwhelms the nation.
"They say that money can't buy the will to fight and that they did not anticipate this collapse on the part of the Afghan security forces," Acosta said. "Why do you think the Biden administration was caught by surprise in all of this? They won't admit it, but they were."
Watch The Full Video Here:
"Yeah, I think everyone was caught by surprise at the extent to which this has collapsed," Fareed Zakaria noted. "The most important thing to look at in all of this, Jim, is when the Taliban has been taking these cities, Kandahar, Kunduz, Herat, there have been very few casualties. What does that mean? The Afghan army is not actually fighting. It is melting away."
"That is a 300,000-person army, trained for 20 years with, as you say, tens of billions of dollars of American money with an air force. And it just doesn't fight. It melts away," Zakaria added. "Now, that tells you that, you know, that we've handled this kind of at a very broad, macro level wrong, which was we tried, we decided that we were going to stabilize Afghanistan by destroying and defeating the Taliban rather than trying to incorporate them. And I say this with the benefit of hindsight."
"I don't know what I was saying 20 years ago, but it does seem as though the Taliban cannot be defeated in that way," he added. "They represent a part of Afghan society. They represent part of the Pashtuns in Afghanistan, the largest ethnic group. Because what they have is passion, tenacity and will, it does remind me, Jim, of South Vietnam. We stayed there for years and years, 500,000 American troops, spent billions of dollars. And at the end of the day, if you talk to the military people on the ground, what they would tell you is the one thing we lacked was the South Vietnamese army just wouldn't fight. Well, that's the problem here. The Afghan army just won't fight."
"It's maddening because we seemed to have bought a military for the Afghan security forces and now that's going to belong to the Taliban, it seems," Acosta added. "But Admiral Kirby continues to say no outcome is inevitable, but the U.S. embassy in Kabul is instructing personnel to destroy sensitive materials. That seems to be an admission that they expect Kabul to fall."
"I think you'd be crazy not to be planning for that," Zakaria responded. "As you pointed out, You're not hearing from the president of Afghanistan. You're not hearing about counter-offensives. You are not hearing about regrouping. You know, some of these cities have fallen before. Kunduz, for example, which fell in the last few days, has fallen twice before in the last 10 years. Each time the Americans, at great cost, with American lives and Afghan lives retook these cities."
"And the question is, is there a strategy?" he went on. "Does the Afghan government have a plan? Do they have the capacity to try and get back? We know they have, again, the military capacity. They have aircraft. They have, you know, weapons. But do they — do they really want to do this? They're facing a Taliban that is only 60,000 or 70,000 troops. The 300,000 of them, vastly better trained, vastly better equipped. Why are they not trying to take back these cities?"
"Yeah, and Fareed, what about President Biden's handling of all of this?" Acosta asked. "Obviously we have the video that shows he didn't anticipate this happening. But should he have also prepared the American people to expect something like this? Because it seems like we're all going to be watching this horrific scene unfold over the next few weeks where the Taliban, some of the worst people on the face of the Earth, are going to take over this country that we have invested trillions of dollars into."
"Yeah. This was a slow-motion disaster in the making in the sense that Donald Trump really took the most important action, which was he drew down American troops significantly from I think about 15,000 to 3,000, and he began negotiating with the Taliban," Zakaria said. "That created this unreal atmosphere where people thought things had gotten stable. They hadn't. The Taliban just stopped fighting against the Americans because they were waiting to negotiate their withdrawal. Once we started to withdraw, the Taliban ramped up again. So we were in a kind of no man's land where it seemed like things were stable."
"Biden should have prepared people for the reality that the Taliban, once it started to fight, was going to, you know, was going to gain the upper hand," he added.
According to U.S. military intelligence, Kabul could fall in a matter of months. To assist with the evacuation of diplomats, loyal Afghans, as well as refugees, the Biden administration has deployed 3,000 U.S. marines.