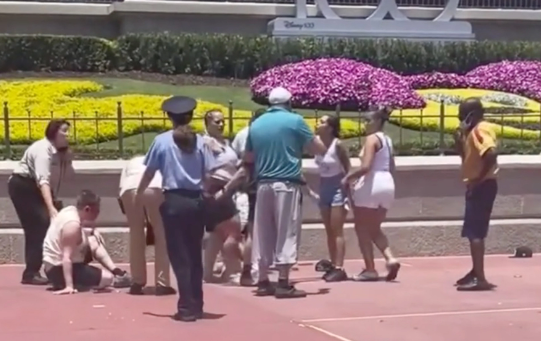 A physical altercation erupted at Walt Disney World on Monday when one family requested another family to shift positions in order to capture a photograph in front of the park's sign commemorating its 100th anniversary. Disturbing footage captured from within the park depicts the involved parties engaging in a physical altercation, with punches being thrown and one man being knocked down. Disney employees urgently sought additional assistance to handle the situation.
Before the workers and a security officer intervened to separate them, the families engaged in heated exchanges, shouting and using profanity towards each other, as depicted in the video footage. The man who was initially knocked down appeared to have difficulty getting back up and chose to remain seated.
According to the Orange County Sheriff's Office, at least one person required medical attention following the altercation, although they decided not to pursue legal action. The police reported that the altercation began at 2:30 p.m. when a family member, who was requested to relocate, struck a member of the opposing family in the face.
The Post's inquiry for comment was not promptly addressed by Walt Disney World Resort.
Incidents involving fights occurring at the Magic Kingdom are not particularly rare.
In response to a surge in violence, Disney issued a warning towards the end of 2022, cautioning against disruptive conduct at its theme parks in Florida and California.
In July of the previous year, a significant altercation involving a minimum of 10 individuals unfolded as families engaged in a heated dispute outside the Mickey's PhilharMagic theater.
As a consequence of this incident, two individuals were taken into custody, and several individuals were prohibited from accessing Disney's parks.