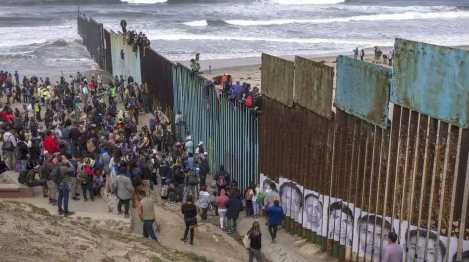 President Joe Biden made it obvious that he intended to encourage illegal immigrants into the country by opening the border between the United States and Mexico before he even took the oath of office. Brijkumar Daxiniprasad, a 50-year-old Indian national (some sources add "Yadad" to the surname), died while attempting to climb the wall separating San Diego, California, and Tijuana, Mexico, while carrying his 3-year-old son.
Daxiniprasad fell to the ground on the Mexican side of the border in Tijuana. Tijuana authorities said Daxiniprasad's wife also fell from the top of the wall but landed on the San Diego side of the steel border barrier.
Father with three-year-old son in his arms falls to his death from border barrier | Daily Mail Online https://t.co/j4RkFQBY0p

— Melanie Alexander maga republican (@MelanieAlex62) December 17, 2022
Daxiniprasad suffered a head injury and was pronounced dead at the scene by paramedics. His son was examined by Mexican paramedics and returned to his mother in her hospital room, she reportedly sustained non-life-threatening wounds, including a fractured hip.
The Title 42 directives on illegal immigration put in place by former President Donald Trump on December 21 have been publicly confirmed to be repealed by Biden. According to reports, thousands of people who might cross the border have gathered in lines in Mexico in anticipation of this. However, on December 19, Chief Justice John Roberts of the United States Supreme Court temporarily stopped that by approving a request for an emergency stay made by 19 states.