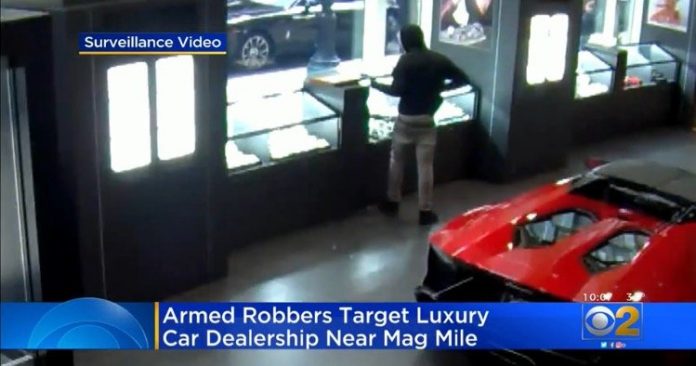 On Saturday afternoon, smash-and-grab thieves robbed a Rolls Royce dealer in Chicago's Gold Coast neighborhood. They made off with millions of luxury watches and took the dealership's keys.
Police say that the two thieves broke into the Rolls Royce dealership at North Rush, near Mag Mile, in the afternoon.
A man wearing a mask and a hoodie broke the glass case with a hammer and grabbed luxury watches worth more than $2 million. Another man, armed with a gun, stood at the front door.
Two salesmen chased the thieves, each with their guns drawn. But the robbers managed to escape.
The car dealership's owner is furious at Lori Lightfoot Kim Foxx, who has failed to implement leftist policies that have contributed to an increase in crime in Chicago.
"A city that I love and everybody loves to come to is going to be a desert if they don't stop this. We're going to have people moving out of this city — they're moving out now — that want to just be safe," the owner, Joe Perillo shared. "They're walking into my business, crashing the windows. And one guy stands with a gun. And we have to have this happen. Enough is enough."
He continued: "It's only a fool who keeps doing things the same way and expects different results. If the Mayor and Kim Foxx don't do anything to get control of this, it's not going to get better. It's going to get worse."
The two suspects are still being sought by police.