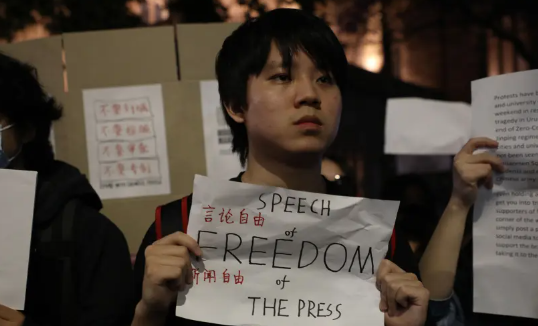 As historic riots in China continued late Monday, demonstrators overturned a car and destroyed a COVID-19 testing facility, resisting a massive police operation that even saw officers forcibly searching the phones of passersby.
Guangzhou was one of many places that saw protests late Monday, but they were much smaller than those over the weekend. Videos published online showed a crowd jubilantly dismantling the testing tent there.
Despite widespread rumors that Chinese censors were attempting to remove or prevent any videos of other incidents from being seen, they also surfaced online.
Videos from Hangzhou, the capital of the eastern Zhejiang province, showed hundreds of police blocking a big area with their presence on Monday night.
One video showed police making an arrest while being resisted by bystanders who were holding iPhones in the midst of a small mob.
Police were on the streets in force in Shanghai and Beijing, the two largest cities that saw the most intense protests over the weekend, to ensure that no groups gathered on Monday or again on Tuesday.
Philip Qin, a 22-year-old citizen of Beijing, described the photographs of what appeared to be forceful arrests during the protests as "really scary."
According to eyewitnesses and multiple videos, police officers stopped people and looked at their phones.
According to local accounts, police have searched for film of protests to either delete it and stop it from going viral online or as potential proof that the person participated in the protests.
According to people who have been stopped, police have also been looking for the restricted Telegram messaging software and the virtual private networks needed to access it.
The BBC was informed on Tuesday by Yang, the president of the Taiwan Reporters Association, that many of his alarmed sources had been deleting all of their internet chats and texts.
Other protesters claim they have begun using dating apps in order to avoid police surveillance and censorship.
The army suppressed the student-led pro-democracy movement in 1989 that was focused on Beijing's Tiananmen Square, and the protests in at least eight mainland cities and Hong Kong are the largest in decades.
After at least 10 people died in an apartment fire in Urumqi, where some residents have been compelled to stay for four months, simmering resentment over three years of strict "zero-COVID" restrictions finally erupted. Many claimed that those attempting to flee the fire were prevented from doing so by closed doors or other epidemic restrictions, although officials refute this.
However, Xi Jinping, who recently began a third, unprecedented five-year term as Communist Party leader, has also come under fire in the protests.