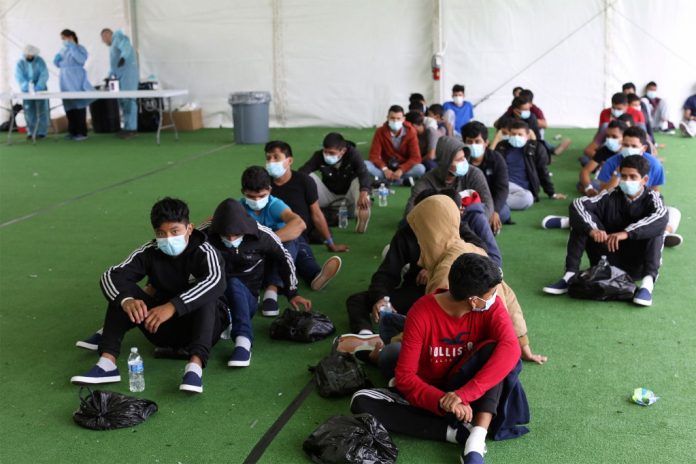 According to shocking reports Wednesday, the Biden administration has lost touch with thousands of unaccompanied illegal immigrants who were released from federal custody.
Axios discovered that between January and May, the Department of Health and Human Services (HHS) Administration for Children and Families received 14,600 calls from the Department of Health and Human Services to check in on children released from shelters run by the US government to sponsor them. 4 890 (33.5%) of those calls were not answered either by the child or their sponsor.
The website also revealed that 26 percent of calls went unanswered in January, and 37 percent in May. Additionally, calls weren't being made as frequently as they should.
According to HHS policy, a caregiver must make a follow-up call with the child and their sponsor within 30 days of their release from custody. Axios revealed that HHS had discharged 32,000 minors in the period between President Biden's inauguration and May 31, while making less than 15,000 follow-up calls.
According to HHS' Office of Refugee Resettlement, the calls are made in order to determine whether the child is still living with their sponsor, is enrolled at or attending school, knows of court dates, and is safe.
"While we make every effort to voluntarily check on children after we unite them with parents or sponsors and offer certain post-unification services, we no longer have legal oversight once they leave our custody," an HHS spokesman told Axios.
According to US Customs and Border Protection, more 65,000 minors were arrested while trying to cross the border to the US-Mexico.
Unaccompanied children, unlike single parents or some families, are not subject for deportation after being apprehended. Instead, they are placed in short-term custody by HHS. This agency is responsible for providing long-term shelter until their case is heard in court. If they are not accompanied by a sponsor, the department may place them in shelters or group homes, or foster care.
Both parties' lawmakers have warned the Biden administration about its loose immigration policy encouraging vulnerable people — including children — to travel to Central America to seek asylum. They may fall prey to drug smugglers and other criminals.
Bloomberg reported last month that the government is looking into whether unaccompanied teens were sent to work as labor traffickers in Alabama or Oregon.
In July, authorities reported 212,672 arrests. This is the highest number of illegal attempts to enter the US in 21 years.
CBP has stopped over 1.1 million illegal crossings in total during the first seven months this year.