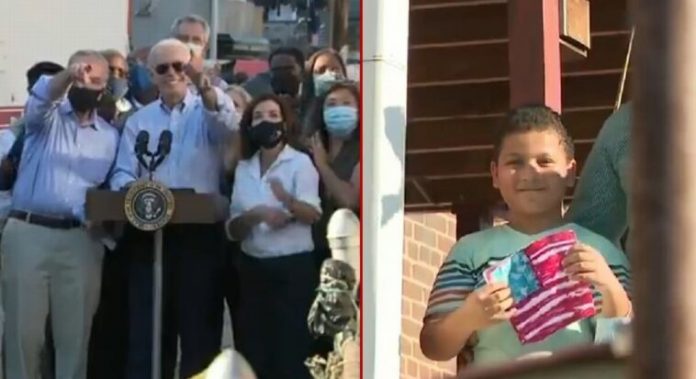 Joe Biden continues making bizarre comments to children, which many Americans would find creepy given his extensive history. The nominal president gave such a shout-out to a seven-year-old boy wearing a handmade American flag on Tuesday. 
Watch It Here:
"Mr. President, look at that nice kid with the American flag," Chucky Schumer said. "Say hello."
"How are you, pal?" Biden asked.
"What's your name?" Schumer said. "He can't hear us."
"How old are you?" Biden asked.
"Seven," the boy responded.
"Oh, you're getting old," Biden said. He didn't clarify, but it had the feel of Captain Clarence Oveur asking a boy if he liked movies about gladiators.
The full video of the boy is available here:
President Biden speaks to a young boy in Queens, NY holding up a hand-made American flag.

Full video here: https://t.co/Nxo99a5Mr2 pic.twitter.com/hDQrwm8PaR

— CSPAN (@cspan) September 7, 2021
The president added an additional oddity to his remarks by telling the 7-year old boy "don't leap." His fellow Democrats laughed at this inappropriate comment. 
Watch Here:
If Biden had not been known for illicitly touching children, the 78-year old man's comments might not seem so inappropriate. Biden's latest scandalous record includes the testimony of a young girl who claimed that Biden touched her nipples when she was eight years old. This was captured on camera.
Maria Piacesi, then eight, met Joe Biden in 2015. She was there with her uncle Sentor Steve Daines' wife. She clearly appears to be groped in the video.
"Did Joe Biden pinch you?" A user by the name of Jonathan Pasetti asked, to which Piacesi responded, "Yes." However, she later deleted her comment.
"Why did you delete the comment?" Pasetti asked.
"I have friends that would no longer be friends with me if they knew that," Maria Piacesi replied.
Biden made a bizarre comment to a child when he was visiting Virginia in May with Ralph Northam, "blackface" Democratic governor, to promote his budget-busting economic program.
Joe Biden looks at a little girl in the audience, the daughter of a veteran, and says "I love those barrettes in your hair. Man I'll tell you what, look at her she looks like she's 19 years old sitting there like a little lady with her legs crossed." pic.twitter.com/DbH8ihG2Mj

— The Post Millennial (@TPostMillennial) May 28, 2021
"I just love the barrettes in her hair now," he said. "I tell you what, by the look of her, she looks like she's 19 years old, sitting there like a little lady with her legs crossed."
Biden's creepy comments aren't just directed at children. A story recently resurfaced about the president making an inappropriate remark to a Gold Star widow at a dignified transfer ceremony.
This president is not a dignified man, it's obvious.