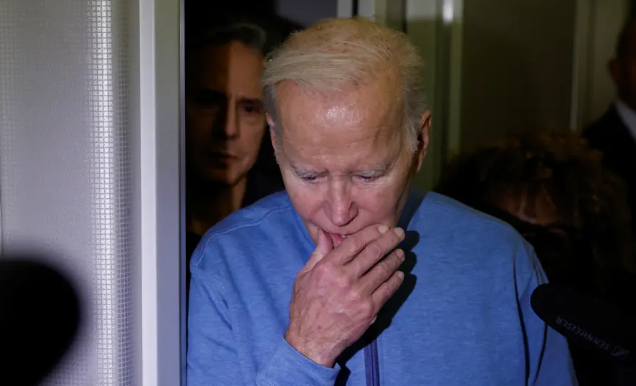 President Biden's current disapproval rating has reached its highest point ever as the 80-year-old incumbent president seeks a second term in office, as indicated by a recent poll. A record 58% of Americans express their disapproval of President Biden's performance in the White House, according to a CNBC survey released on Wednesday.
President Biden received notably low ratings for his management of the economy, with only 32% expressing approval, and his approach to foreign policy, with just 31% in favor.
Within the Democratic party, 66% of respondents support his handling of foreign policy, and 74% approve of his economic policies. These figures fall significantly below his overall approval rating of 81% among members of his own party.
The pollster described these figures as alarming statistics for a president seeking re-election.
According to Democratic pollster Jay Campbell, President Biden's support among young voters, Black Americans, and Latinos is a cause for concern. In a hypothetical one-on-one competition with former President Donald Trump, the poll revealed that Biden would trail by 4 percentage points. The findings indicate that 46% would favor the 77-year-old former president, while 42% would support the current incumbent.
The survey, which was conducted between October 11 and October 15 following Israel's declaration of war against Hamas terrorists, revealed that an overwhelming 74% of Americans believe that the U.S. government should provide military assistance to Israel. In terms of U.S. policy, a majority of 39% expressed that it should favor the Israelis, while 6% believed it should favor the Palestinians, and 36% thought that the U.S. policy should treat both groups equally.
In a Quinnipiac poll released on Tuesday, it was found that only 42% of respondents agree with President Biden's handling of the Oct. 7 Hamas terrorist attack on Israel. This aligns with the same percentage of those who approve of U.S. policy towards Israel, as indicated by the poll. Additionally, the poll reported that President Biden has a 56% disapproval rating among registered voters.
During his visit to Israel on Wednesday, President Biden announced $100 million in humanitarian aid for the Palestinian territories in the West Bank and Gaza Strip. He also mentioned his intention to request an "unprecedented" military aid package for the Jewish state from Congress.