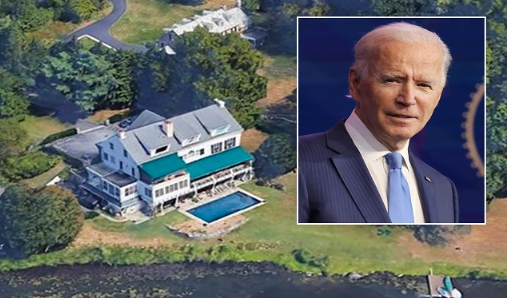 President Joe Biden received a warning from the US Secret Service, and is poised to provide the identities of anybody who visited Biden's house in Wilmington, Delaware, if requested by Congress.
In spite of the White House's denial, visitors to the private home do interact with Secret Service personnel, so if Congress makes a request, certain names will be made public.
"The Secret Service does not maintain visitor logs at the private residences of protectees. While the Secret Service does generate law enforcement and criminal justice information records for various individuals who may come into contact with Secret Service protected sites, we are not able to comment further as this speaks to the means and methods of our protective operations," stated Anthony Guglielmi, the director of communications for the US Secret Service.
While the White House hasn't maintained a formal guest list, the Secret Service does keep records of those who often visit the residence.
This issue has solicited a lot of opinions from the citizens who took it to Twitter.
One person commented about how the White House could not give any answers at all, "NBC News' Peter Alexander repeatedly presses Karine Jean-Pierre about the White House claiming that Republicans are "faking outrage" over Biden's classified document scandal. "Why shouldn't Americans be upset about documents found in a garage?" he asks. She can't answer."
NBC News' Peter Alexander repeatedly presses Karine Jean-Pierre about the White House claiming that Republicans are "faking outrage" over Biden's classified document scandal.

"Why shouldn't Americans be upset about documents found in a garage?" he asks.

She can't answer. pic.twitter.com/zTdd3SkkmN

— Ryan Saavedra (@RealSaavedra) January 17, 2023
One user said, "Joe Biden may have Tweeted out a picture of the classified documents "securely" stored in his garage beside his corvette."
Joe Biden may have Tweeted out a picture of the classified documents "securely" stored in his garage beside his corvette. pic.twitter.com/puI4SE0NKk

— Clay Travis (@ClayTravis) January 12, 2023
And lastly, someone pointed out how Joe Biden ignores this pressing issue, "Joe Biden — who has not taken a single question in more than a week — again ignores questions on why he hid classified documents in his garage, office, and home."
Joe Biden — who has not taken a single question in more than a week — again ignores questions on why he hid classified documents in his garage, office, and home. pic.twitter.com/ceX66z2rmq

— RNC Research (@RNCResearch) January 19, 2023