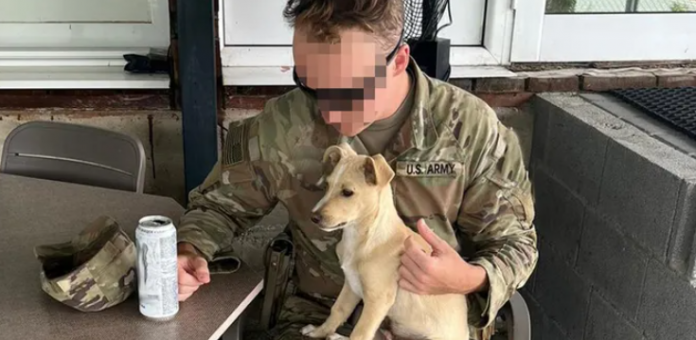 An Army soldier is doing everything in his power to save his closest friend and bring the youngster out of harm's way.
U.S. Army Specialist Howe, who is now serving overseas, recently came across a small dog and experienced the shock of his life.
The pup had figured out a method to enter the base covertly.
According to Howe, who works for the New York-based animal rescue organization Paws of War, the small dog bolted through a gate and clung to the soldier right away.
The terrified puppy appeared to be looking for safety from the harsh and perilous surroundings outside.
Given that the puppy was severely dehydrated and in need of food, Howe gave him the name Doc and provided food and water.
Doc is now adamant about staying by the soldier's side.
He has greatly improved the morale throughout the entire camp, Paws of War said in a release.
"He walks around his newfound family members, wagging his tail and giving kisses in exchange for a few belly rubs," the organization added.
Howe is always being shadowed by Doc, who the other soldiers call in jest "his shadow."
Howe acknowledged that simply having Doc nearby helped him and his fellow soldiers sleep better at night. The soldier promised his dog that he would make every effort not to abandon him, even if it meant having the dog shipped back to Kentucky. When the soldiers finally needed assistance, Paws of War was approached, and the organization complied.
According to its website, the New York-based Paws of War, led by co-founder Robert Misseri, has since 2014 brought over 300 dogs and cats to safety in the United States after they were all saved by American service members serving abroad.
The co-founder said that he has heard numerous painful tales of military personnel who were forced to abandon their dogs and how it has permanently burdened them.