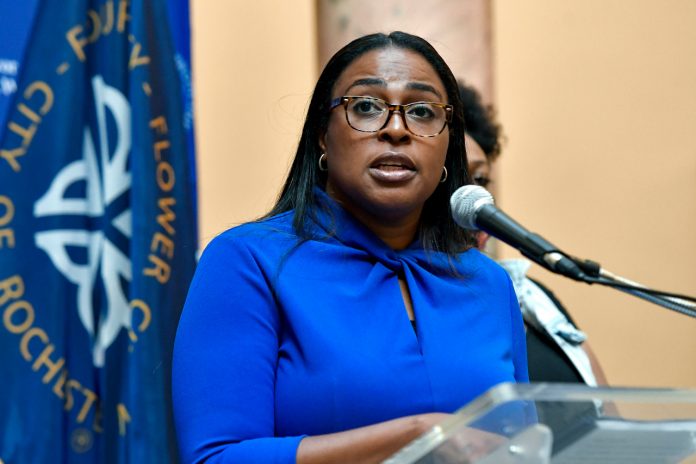 Rochester, New York mayor faces charges for felony gun possession, child endangerment and Rochester, New York mayor
The embattled mayor Lovely Warren and her husband Timothy Granison were each charged with criminal possession, two counts for endangering the welfare a child and two counts for failing to secure firearms within a home. An unregistered handgun and semi-automatic rifle allegedly were found unsecured inside the couple's home they share with their 10-year-old child, along with cocaine and $100,000 cash.
The mayor's home was raided in connection to a major seven-month-long drug investigation after Granison was allegedly pulled over with alarge quantities of cocaine in his possession.
In May, Rochester Mayor Lovely Warren's house was searched by state police.
Granison was taken into custody and charged with two drug and one firearm charges. After the raid in which the drugs, cash and guns were discovered, both Warren and Granison were arrested and indicted by the grand jury.
Key Take-Aways From This:
Granison's arrest was part of a seven-month-long investigation; he was not the original target.
Numerous warrants were executed Wednesday night in addition to Granison/Warren's home. Between Wednesday night and Thursday morning, seven locations were seized. More arrests are possible.
At the time of the arrest, only the couple's daughter was home, prompting questions from reporters concerning potential child endangerment charges in relation to the gun charge. Doorley refused to comment but noted more charges are coming.
Already 2 kilos worth of crack cocaine were confiscated by the busts. This equates to more than $60,000. Three firearms were confiscated, and more than $100,000 worth of cash was recovered.
Doorley refused to confirm or deny that Mayor Warren was involved in the investigation.
Ms. Warren indicated that she would not plead guilty.
Mayor Warren was mentioned in the news when the entire Rochester Police Department Command Staff announced that they would be retiring amid ongoing riots last September.