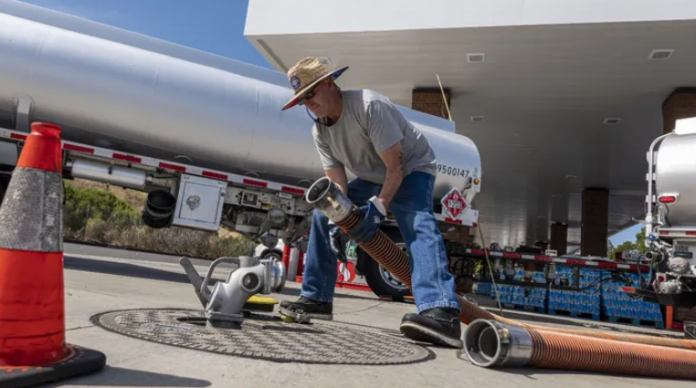 As gasoline costs reach all-time highs, thieves are stealing gas all around the country, either by physically removing it from pumps and other cars or by breaking into the networks of gas merchants.
While gas thieves may believe that by reselling stolen fuel at a discount, they are helping drivers, experts argue that this is not precisely how gas thieves are sticking it to the man.
The National Association of Convenience Stores (NACS), where Jeff Lenard serves as vice president of strategic industry initiatives, stated, "There is no Robin Hood in this. These are thieves. They are not robbing from the rich and giving to the poor. The gas station owner is the least responsible for high prices. The cost of theft gets passed on in higher prices, and when people are driving around with unsecured stolen fuel, it is a concern to anybody."
We are looking for two suspects regarding the theft of approximately 1,093 gallons of gas! Do you know either of our suspects? If so, please contact Det. Mannix at 407-891-6729 or @CrimelineFL. #turnemintuesday #tips #CrimeLine #SCPD pic.twitter.com/7oN6y4bxb4

— St.Cloud Police Dept (@StCloudPD) June 14, 2022
According to Terry Kim, an Air Force veteran and co-founder of NGT Institution, a network engineering and cybersecurity training academy, the owner of the gas station is the one who ultimately loses out in these kinds of circumstances.
By carrying out such actions, they risk becoming bankrupt and losing all of their assets. Even while stealing oil may be a way to help others or receive free gas, this is actually harmful for the proprietors of the gas stations.
Police in Virginia Beach, Virginia, saw a number of cars employing devices to pump petrol from a Citgo station that was shut down at the time earlier this month.
Fuel merchants should make sure their networks are safe and up to date in order to defend themselves from cyberattacks. This will ensure that their technological architecture is impenetrable by hackers and prevent them from accessing their networks to steal or modify data. According to Kim and Jacob Hess, a co-founder of NGT Academy, stores and franchisees should likewise teach their staff.
Another concern is actual thefts of gas that do not involve hacks.
According to statistics from the US Energy Information Administration, Lenard said that around 25% of gas merchants had seen an increase in gas theft compared to previous year.
According to the AAA, petrol prices have increased 5 cents over night under President Joe Biden, costing Americans $1.82 more on average than they did a year ago, when the price was $3.05.
The Energy Information Administration's most recent statistics show that for the week ending June 10, the US produced 12 million barrels of crude oil daily. In March 2020, domestic drillers generated 13.1 million barrels per day as a reference.