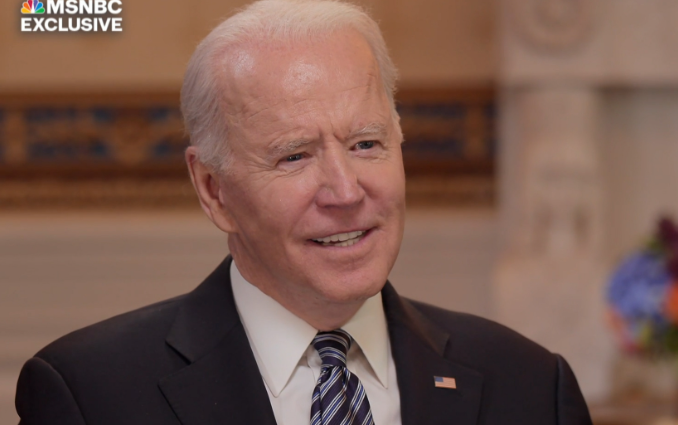 Friday, President Joe Biden shocked the media by scheduling a "major press conference," which was unexpected given the President's reputation for dodging questions in public. Reporters were thrown into a frenzy trying to get ready for the event after hearing the news. But it turned out that there wasn't even a press conference. The announcement further demonstrated the Biden administration's lack of competence thus far. As a politician with 50 years of experience, Joe Biden should understand the distinction between a news conference and an interview. The events that have unfolded are strange and disturbing.
Biden's MSNBC Interview Was a Disaster https://t.co/fgOnJNyCky

— Townhall.com (@townhallcom) May 8, 2023
Despite canceling the planned news conference, Biden did an interview with MSNBC that night, during which he defended his son Hunter Biden, who is presently the subject of criminal investigations. The government faces serious risks because to the charges against Hunter Biden. Given the gravity of the matter, it would be quite improper for the President to declare that his son has done "nothing wrong." The President's proclamation raises concerns and questions, especially in light of rumors of possible political intervention in the investigation.
WATCH MORE OF THE INTERVIEW HERE:
Joe Biden on the allegations of corruption against his deadbeat son, Hunter: "My son's done nothing wrong. I trust him, I have faith in him, and it impacts my presidency by making me feel proud of him." pic.twitter.com/zWh4kwY4K0

— RNC Research (@RNCResearch) May 6, 2023
Biden's brain malfunctions within the first 30 seconds of his interview on MSNBC pic.twitter.com/R3U76wxK2T

— RNC Research (@RNCResearch) May 6, 2023
Q: "You talk about fighting for the soul of America, but…hate crimes are on the rise, random acts of gun violence, women are under attack—"

Biden's staffer interrupts, but he answers anyway by starting to say "we can't let Obama" be president again. pic.twitter.com/bue27GSz1S

— RNC Research (@RNCResearch) May 6, 2023
Biden says Americans don't give him high approval ratings because "all they've heard is negative news for three years" pic.twitter.com/cQXdC8YDS1

— RNC Research (@RNCResearch) May 6, 2023
Concerns about Biden's aging performance were also highlighted in the interview. Biden's memory lapses extended to the point where he confused former president Donald Trump with Barack Obama. According to this assertion, the President is having trouble with his memory, which is cause for grave alarm among the American people. Even more worrisome is the fact that Biden's staff had to step in and correct him.
It's hardly shocking that a lot of people are dissatisfied with the presidency's results thus far. A recent survey shows that Donald Trump and Ron DeSantis both have a seven-point edge over Joe Biden in hypothetical general election matchups. The superior economic performance of Trump's administration compared to that of Biden's is largely responsible for this outcome. Like Trump, most Americans think Biden doesn't have the requisite mental agility to be president. Since Biden announced his candidacy, this figure has plummeted from 51% to 32%. Once again, this outcome is to be expected given the President's track record.
Last but not least, it's worrisome that 58% of Democratic leaners want a different candidate nominated than Biden in the next race. The President has been in office for fewer than six months, and already even members of his own party are distancing themselves from him. Given the failures of this presidency, it is easy to see why people feel so chilly toward his government. After all the hardships our country has seen in recent years, this is the last thing we need.