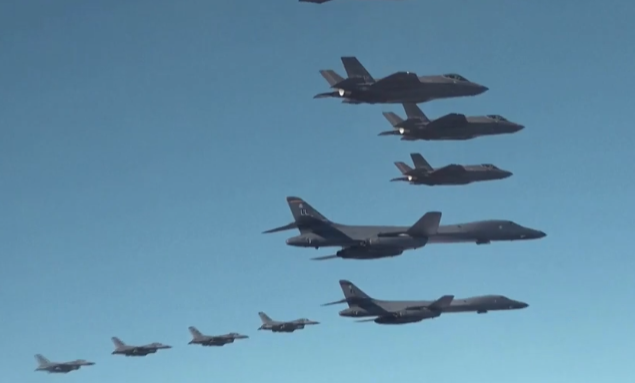 A day after North Korea fired a Hwasong-15 intercontinental ballistic missile (ICBM) in a "sudden launching drill," the United States conducted bilateral joint air drills with South Korea and Japan on Sunday that involved strategic bombers.
According to the Joint Chiefs of Staff of South Korea, the drill involved F-35A, F-15K, and US aircraft. The "overwhelming" defense capabilities and readiness posture of the allies were displayed as F-16 fighters escorted US B-1B bombers.
The South's military released a statement saying that the drill "The exercise strengthened the combined operation capability and affirmed the United States' ironclad commitment to the defense of the Korean Peninsula and the implementation of extended deterrence."
After the most recent North Korean missile fell within its Exclusive Economic Zone, Japan's Defense Ministry announced in a statement that it conducted tactical exercises over the Sea of Japan with the US Armed Forces' B-1 bombers and F-16s.
"This bilateral exercise reaffirms the strong will between Japan and the United States to respond to any situation, the readiness of (Japan's Self Defense Forces) and U.S. Armed Forces, and further strengthens the deterrence and response capabilities of the Japan-U.S. Alliance."
The air exercises take place a day after North Korea fired a long-range ballistic missile into the ocean off the west coast of Japan, in response to a threat from South Korea and the United States that they would respond harshly to planned military exercises.
According to North Korea's official news agency, KCNA, the nation carried out a "sudden launching drill" on Saturday as concrete evidence of its efforts to transform the capability of a lethal nuclear counterattack on the adversarial forces into an unstoppable one.
Kim Yo Jong, sister of North Korean leader Kim Jong Un, issued yet another warning and charged that the US was attempting to utilize the UN Security Council as a vehicle for its wicked hostile policy toward Pyongyang.